Elemento Lab helps identify new class of cancer drugs
Oncoceutics, Inc. announced that its initial discovery of ONC201, a benzyl-benzylmethyl-imipridone that has demonstrated excellent anti-cancer activity and safety in preclinical models and ongoing clinical trials, has led to the creation of a new family of chemically-related small molecules that also possess significant anti-cancer activities.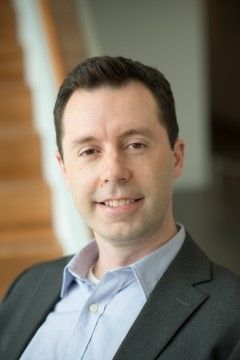 Olivier Elemento The family, which the company has named "imipridones," represents a novel class of chemical compounds that could have significant impact on cancer therapy.  All of the imipridones are small molecules that possess a unique three-ring heterocycle with two substitutable basic amines.  ONC201, the founding member of this novel chemical class, exhibits very attractive drug-like chemical and physical characteristics: excellent chemical stability, high aqueous solubility at low pH, high lipophilicity at physiological pH, and a low molecular weight.  These attributes enable oral bioavailability that achieves therapeutic concentrations and wide distribution throughout the body to target tissues that include brain, bone marrow, lymph nodes, skin, and muscle. 
Clinical trials with ONC201 have demonstrated exceptional safety with a therapeutic pharmacokinetic (PK) profile and a large volume of distribution, induction of pharmacodynamic (PD) markers, and early efficacy signals in a number of different types of cancer, including acute myeloid leukemia, Non-Hodgkin's Lymphoma, prostate and endometrial cancers.
Based on the drug-like properties and anti-cancer activity of ONC201 and its novel imipridone core chemical structure, Oncoceutics has generated a new family of small molecules, protected by issued US composition of matter patent claims, with similarly attractive drug-like chemical and physical characteristics that derived from the unique three-ring heterocycle core structure.  Among this family are ONC206 and ONC212, which maintain many desirable features of ONC201 but exhibit distinct spectrums of activity among cancers with high potency.  ONC206 is a benzyl-flurobenzyl imipridone that has highly potent activity in preclinical models of Ewing's sarcoma and other difficult-to-treat cancers.  ONC212 is a benzyl-alkylflurobenzyl imipridone that has potent activity in a variety of preclinical models, most notably leukemia.
In addition to their unique chemical structure, these compounds appear to have a mechanism of action unlike that of other anti-cancer drugs. ONC201, the lead compound of this family, has been shown to directly antagonize DRD2, a member of the D2-like dopamine receptor subfamily that belongs to the superfamily of G protein-coupled receptors (GPCRs). Other members of the imipridone family also have the potential to target GPCRs, an underexploited family of targets in cancer.
"We expect this creation of a whole new family of therapeutics to be highly significant to the future of oncology," said Joshua Allen, Ph.D., and Vice President-R&D of Oncoceutics. 
"This novel binding target of ONC201 represents unchartered territory in clinical oncology," said Olivier Elemento, Ph.D., Associate Professor at Weill Cornell Medicine, whose laboratory helped discover the binding target for ONC201.  "We look forward to studying the emerging members of the imipridone family that may possess similar mechanisms of action and therapeutic potential."