Computer to clinic: Tool developed at Weill predicts drug success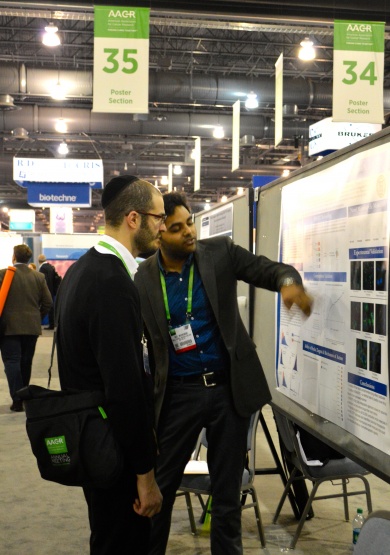 A computational tool created by a graduate student in the lab of Olivier Elemento, Ph.D, has realized its first clinical application - less than a year after its development.
Drug discovery and development company Oncoceutics announced April 18 at the annual meeting of the American Association for Cancer Research (AACR)  that it is testing a new drug, ONC201, a D2-like dopamine receptor antagoniser, which was identified by confluence of computational, receptor binding, and clinical studies. 
ONC201 is a first-in-class small molecule that is currently being evaluated as a new therapeutic agent in five clinical trials for select advanced cancers based on pronounced efficacy in aggressive and refractory tumors and excellent safety.
The drug works by engaging specific members of the dopamine receptor family that belong to the superfamily of G protein-coupled receptors (GPCRs). The interaction was predicted by a novel drug target prediction method developed by Neel S. Madhukar, called BANDIT (Bayesian ANalysis to determine Drug Interaction Targets).
BANDIT, which was unveiled at the 2015 AACR annual meeting, forecast that ONC201 binds to DRD2, a member of the D2-like dopamine receptor subfamily. GPCR reporter assays subsequently confirmed this forecast, demonstrating that ONC201 indeed antagonizes DRD2 and its closely related family member DRD3, but not other known GPCRs within or beyond the dopamine receptor family. The physiological relevance of this interaction was established by analyzing clinical samples. Cancer patients who were treated with ONC201 had elevation of a protein called prolactin in their blood, which is a clinical biomarker of DRD2 antagonism.
"We are delighted to work with Oncoceutics on its exciting new anticancer molecule ONC201 and to have uncovered its binding target using our computational algorithm, BANDIT," said Elemento.
"This is the first report of a direct interaction between ONC201 and a protein, representing a significant milestone in our continued efforts to understand how this first-in-class small molecule exerts its unique activity," said Joshua Allen, Vice President, R&D, at Oncoceutics. "The D2-like receptors engaged by the drug are members of a superfamily of therapeutic targets that are largely untapped in clinical oncology in spite of their recognized role in the literature. Our results and the literature show that selective inhibition of the D2-like family of dopamine receptors represents a promising novel therapeutic concept in oncology."
Read more about the presentation here.