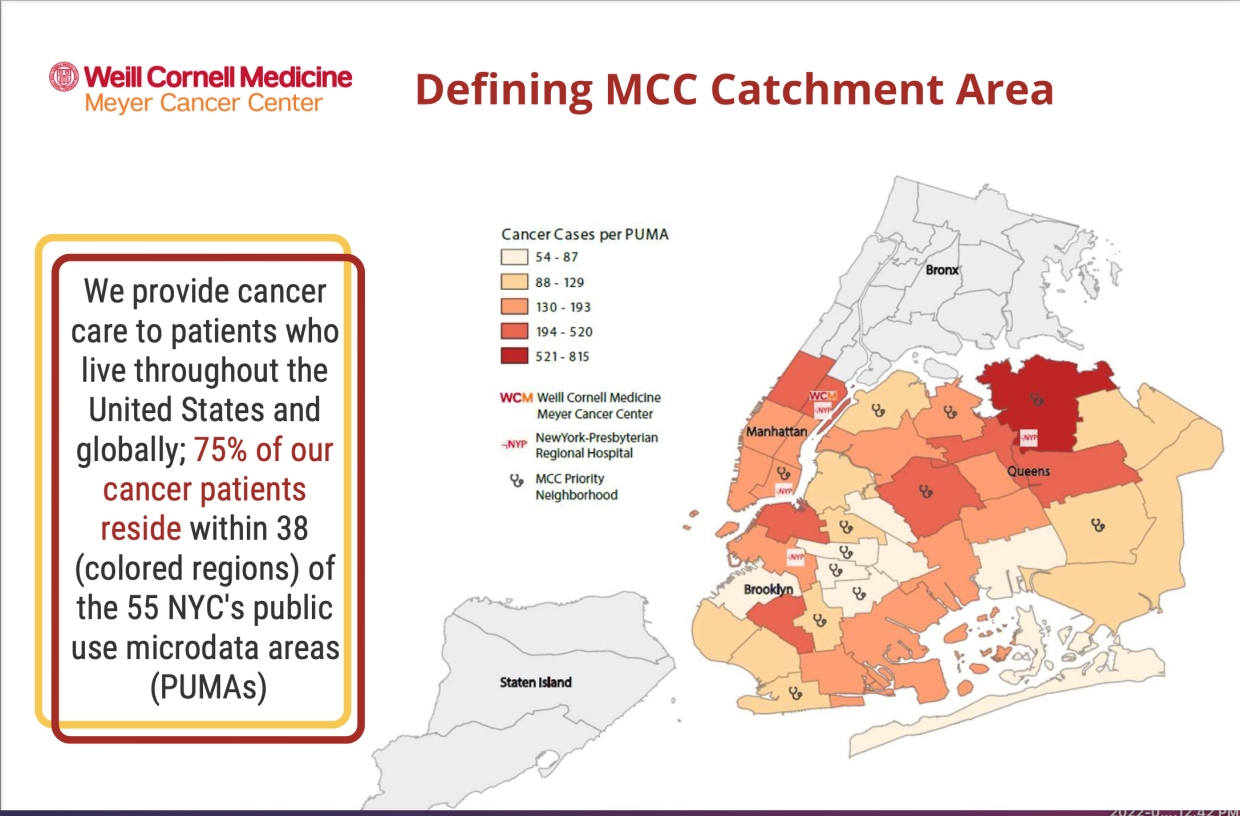 Who We Serve 
The Meyer Cancer Center's Community Outreach and Engagement program is dedicated to serving the needs of all patients who come to our center from near and far. We define our primary catchment area as the geographic area where more than half of our cancer patients reside. Our center provides cancer services throughout our catchment area in partnership with NewYork-Presbyterian Hospital.  Our priority neighborhoods were identified by cross-referencing NYP hospital admission data, established outreach programs, and neighborhood cancer burden. These neighborhoods include:
Brooklyn: Bedford-Stuyvesant, Coney Island, Crown Heights North, Crown Heights South, East Flatbush, Flatbush.
Queens: Long Island City, Jackson Heights/Corona, Ridgewood, Flushing, Jamaica.
Manhattan: Upper East Side and Lower East Side.
Cancer Burden in Our Catchment Area: Cancer is the leading cause of premature death (before age 65) in the MCC catchment area, with 127/100,000 population/year between 2012-2016.  

Learn more about the cancer incidence, mortality and risk factors in the neighborhoods we serve.
Meyer Cancer Center Demographics
Our catchment area is home to over 6 million individuals across 38 distinct neighborhoods and three counties (Brooklyn Manhattan and Queens), representing one of the most linguistically and ethnically diverse places not only in the United Stated, but the world. Robust community engaged efforts alongside statewide and national data guides the development and dissemination of evidence-based treatments as well as policies to reduce the cancer burden in the catchment area.
White: 35.20%
Hispanic/Latino: 21.20%
Asian: 19.70%
Black/African American: 18.30%
Multi-race: 3.90%
Other Race: 1.80%