The Sandra and Edward Meyer Cancer Center marks a critical step in the transformation and acceleration of personalized translational medicine, research and clinical care for cancer patients.

WHO WE ARE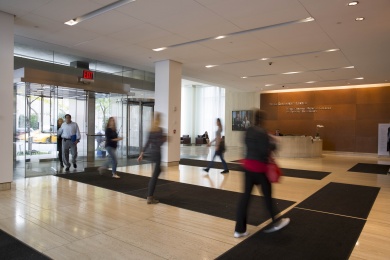 We are a collaborative, multidisciplinary research enterprise located at Weill Cornell Medicine, one of the top-ranked clinical and medical research centers in the country, in affiliation with NewYork-Presbyterian Hospital, one of the best hospitals in New York. The Meyer Cancer Center engages more than 250 basic scientists, pathologists, bioinformaticians, surgeons, oncologists, radiologists and other clinicians, who collaborate with colleagues at Cornell University's Ithaca campus and other institutions to take fundamental discoveries from bench to bedside, and back again. 
WHAT WE DO
Our mission is to ensure that patients have access to emerging new therapies in a supportive and caring environment, while training future researchers and recruiting leaders in cancer research and clinical care.
We provide personalized, compassionate care that is state-of-the-art, not out-of-the-box. We take the time to get to know our patients, and partner with them to devise the best available evaluation and treatment program, whether that be through standard care or participation in some of our innovative clinical trials. We also provide access to a full range of resources needed for comprehensive cancer care. This includes nutrition, psychosocial support, complementary medicine, rehabilitation, pain management, cardiac and pulmonary care, and an array of specialists across all medical specialties.
By delving deeply into research that explores basic biological processes, genetic abnormalities and pathological states, we are making unparalleled progress in our understanding of the molecular events that cause cancer and in our ability to translate this knowledge into new approaches for prevention, treatment and cure. We tackle cancer through two basic science and two translational/clinical research programs. The creation of a centralized biobank in partnership with the Englander Institute for Precision Medicine is creating further opportunities for lab and clinical advances.
Founded in 1898, and affiliated with what is now NewYork-Presbyterian Hospital since 1927, Weill Cornell Medicine is among the top-ranked clinical and medical research centers in the country. In addition to offering medical degrees, Weill Cornell Medicine also has Ph.D. programs in biomedical research and education at the Weill Cornell Graduate School of Medical Sciences, and a joint MD-Ph.D. program with the neighboring Sloan-Kettering Institute and The Rockefeller University. Graduate students, medical students, postdocs and clinical fellows are valued members of our research labs.
Visit Us
NYP/Weill Cornell Medical Center
525 E 68th Street
New York, NY 10065
NewYork-Presbyterian Brooklyn Methodist Hospital:
506 6th Street
Brooklyn, NY 11215
NewYork-Presbyterian Queens:
56-45 Main St
Queens, NY 11355