Genomic data sharing expands possibilities of precision medicine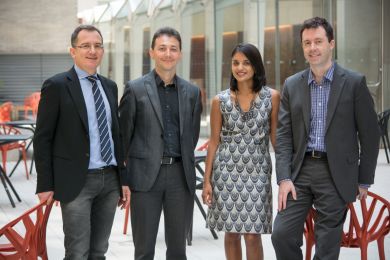 Team approach: Drs. Mark Rubin, Andrea Sboner, Himisha Beltran and Olivier Elemento A new collaboration involving Weill Cornell Medicine will equip researchers with more precise and reliable genomic data when investigating instances of cancer.
Weill Cornell Medicine, through the Caryl and Israel Englander Institute for Precision Medicine, is partnering with the Garvan Institute of Medical Research in Sydney, Australia, to combine their databases of genomic information. By sharing data, researchers will be able to look for patterns and trends in cancer across a large patient population. Findings that show clear patterns will help inform the design of new clinical trials.
"Sharing knowledge about the types of mutations we identify at the Englander Institute for Precision Medicine with a world-class genomics partner increases our ability to make sense out of rare findings," said Dr. Mark A. Rubin, director of the Englander Institute. "If a mutation only occurs in one percent of the patient population at Weill Cornell Medicine, having the added experience from the Garvan will help us determine if the prevalence of the mutation is real."
Dr. Rubin wrote in a 2015 commentary in Nature that linking genomic data and patient clinical information is essential to better understanding mutations and developing treatments. Moreover, institutional collaboration further helps to unpack and utilize the wealth of big data available to researchers and physicians. For example, collaboration could aid in recruitment for clinical trials testing the safety and efficacy of treatments, Dr. Rubin wrote.
"We need to share genomic data and clinical phenotypes to make connections between genes and disease, but it has to be done the right way," said Dr. Olivier Elemento, head of the Englander Institute's computational biology group, an associate professor of physiology and biophysics and head of the laboratory of cancer systems biology in theHRH Prince Alwaleed Bin Talal Bin Abdulaziz Al-Saud Institute for Computational Biomedicine at Weill Cornell Medicine.Weill Cornell Medicine and the Garvan Institute will employ two systems to share genomic data: CBioPortal, which includes a user interface for browsing genomic profiles; and Beacon, a tool for sharing genomic variants across larger population cohorts. The information shared through these systems will help Weill Cornell Medicine and Garvan Institute researchers reduce complexities associated with genomic variants and increase opportunity that similar variations exist within other cohorts. Both systems will ensure genomic data is de-identified, meaning confidential patient information is not revealed to researchers.
The collaboration is the first for the Englander Institute, which is hoping to forge relationships with other institutions — both nationally and globally — with the goal of expanding genomic data-sharing and its uses to improve understanding of disease and patient care.