Doctor's personal tie to treating lung cancer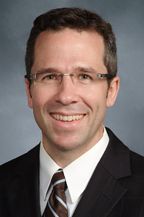 Brendon Stiles As a thoracic surgeon at Weill Cornell Medical College in New York City, James Wood High School graduate Dr. Brendon Stiles saves patients from the same disease that claimed the life of his father, former Frederick County Board of Supervisors Chairman Kenneth "Kenny" Stiles.
It has been 10 years and a couple of weeks since Stiles, a dairy farmer in Clear Brook, died of lung cancer at age 61. His son was at Winchester Medical Center on Wednesday afternoon giving a presentation about the latest developments in treating the deadly disease.
A 1990 graduate of James Wood, Stiles initially thought he'd be a veterinarian. 
"I grew up on a farm, and I liked animals, but then I realized I liked people more than animals," he said during an interview Wednesday morning. 
Stiles's twin brother, Ryan, is a lawyer in Wichita, Kan. His mother, Tricia, is a legislative assistant for 27th District state Sen. Jill Vogel,R-Upperville. After going to college and medical school at the University of Virginia, Stiles completed a general surgery residency in Charlottesville as well. While a resident, he took time out to do scientific research at Memorial Sloan Kettering Cancer Center in NewYork. Stiles, 42, then did a cardiothoracic residency at Weill Cornell, NewYork-Presbyterian Hospital and Sloan Kettering. He has stayed on at Weill Cornell, and in addition to being a thoracic surgeon, he's an associate professor, and does clinical and basicscience research. 
"Most of my practice is lung cancer," Stiles said. "I was sort of already on that path when [my father] got diagnosed, but obviously, that's strengthened my resolve to take care of lung cancer patients. "It's made a tremendous difference. It's hard to imagine being a doctor and not seeing the other side of the disease you're treating."
Stiles said he planned to talk about how lung cancer treatment has evolved in the last several years.
He praised low-dose CT scans for patients at risk of developing lung cancer.
"We think it's critical for finding cancers early," Stiles said. "About 40 percent [of lung cancer patients] present with advanced disease."
The five-year survival rate of Stage 4 lung cancer is about 4 percent, he said. That 's why the hope is to catch it when it's in Stage 1, where the survival rate is 70-80 percent, "which is still lower than most other cancers detected at Stage 1."
"People have described [ lung cancer] as a smart cancer that has a high mutational load," Stiles said. "I think we still probably understage a lot of patients."
In the past, lung cancer was just lumped into one category, Stiles said. Then, it was divided into small cell and non-small cell lung cancer.
"Now, even among nonsmall cell, there's different histological classifications," Stiles said.
Personalized, or precision, medicine is the focus these days, he said. Rather than treating all cancers the same, a tumor is specifically targeted. Stiles's research is focusing on biomarkers (which are found in the blood) for lung cancer as adjuncts to CT screening. That's because 98 percent of nodules found in the lungs in the low-dose CT scans turn out to be benign, he said.Biomarkers include circulating proteins, circulating DNA, and circulating micro-RNA, according to Stiles.
They can also be detected through bronchoscopy, he said.
"Hopefully, we will get better and better with biomarkers — people like to call them liquid biopsies," Stiles said. "We continue to get better and better with surgical techniques and minimally invasive therapy."
It 's not just the medical side of lung cancer that is evolving. 
"In the past, there was a lot of stigma attached to a lung cancer diagnosis," Stiles said. "Diagnosed people didn't talk about it."
That stigma comes from its association with smoking. But, 20 percent of lung cancer patients didn'tsmoke. There were no marches for lung cancer. There weren't many survivors. This despite being the No. 1 cancer killer in the U.S., with more deaths than from breast, colon and prostate cancer combined, Stiles said.
"Lung cancer traditionally has been underfunded by cancer funding agencies and sort of under-represented by cancer advocacy groups," Stiles said.
That has since changed, he said, and he is on the medical advisory board for the Lung Cancer Research Foundation. He will also be leading the #ResearchBeatsCancer team for the Strides For Life event on Aug. 9.
"I think finally patients are not being blamed for getting lung cancer," Stiles said.
Fortunately, a "tremendous drop in smoking" should lead to fewer diagnoses and therefore, deaths, he said.
But developing countries, such as China and India, are seeing higher rates, especially due to pollution and open-fire cooking, Stiles said.
It's important for patients to advocate for themselves.
"A lot of people get told it's not treatable," Stiles said. "I think every patient has to be his or her own advocate."
....
This story first appeared in The Winchester Star. Read the full article here.
Follow @BrendonStilesMD on Twitter