Esophageal cancer: What happens after 5 years?
Wednesday, April 29, 2015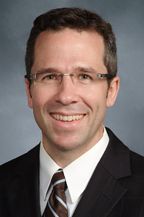 Brendon Stiles Reaching the five-year milestone after surgery to treat esophageal cancer is cause for celebration. And many patients may be reaching this milestone.
A new study found that survival up to 15 years was high in patients who had surgery for locally advanced esophageal cancer and lived at least five years. But these patients showed continual risk for cancer recurrence and other health issues.
Brian D. Lawenda, M.D., national director of Integrative Oncology and Cancer Survivorship at 21st Century Oncology in Las Vegas, listed many possible reasons for this increased survival.
"The appropriate selection of patients has markedly improved with preoperative risk assessments and cancer staging, so patients who will most likely benefit from the treatments are identified and those least likely to benefit are not subjected to complex and high-risk therapies," Dr. Lawenda told dailyRx News. "We have also learned how to manage the care of these patients during the precarious few days-to-weeks after surgery."
Brendon M. Stiles, M.D., of Weill Cornell Medical College and NewYork-Presbyterian Hospital in New York City, led this study.
Dr. Stiles and team studied the health records of over 350 patients who had locally advanced esophageal cancer. Esophageal cancer is a cancer of the esophagus, which carries food from the mouth to the stomach. The median age of these patients was 64.
All of the patients had surgery to remove the portions of the esophagus that were cancerous.
Five years after surgery, 41 percent of these patients were still alive.
In those patients who survived for five years after surgery, 89 percent were still alive after seven years. After 10 years, 73 percent were still alive, while 57 percent were still alive after 15 years.
Dr. Stiles and team found that 23 percent of the five-year survivors developed recurrent esophageal cancer (cancer that came back). Most of the recurrences (75 percent) happened within five years of the initial surgery. About 33 percent of those who had recurrent cancer survived to 10 years after surgery.
"The annualized risk of recurrence was 1.4 percent per year until year 10," Dr. Stiles said in a press release.
Dr. Stiles and team said esophageal cancer patients should be monitored for at least 10 years after surgery due to the risk of recurrence.
"Surveillance does not appear to be futile, as 11 patients who were treated for recurrent esophageal cancer survived at least five years after treatment of their recurrence," Dr. Stiles said.
Esophageal cancer survivors were also at risk for other cancers and chronic pulmonary disease.
"It's crucial that esophageal cancer survivors follow up closely with their gastroenterologist and oncology physicians, so that they can hopefully identify recurrences when they are still potentially curable," Dr. Lawenda said. "The bottom line is that we have made progress in the outcomes of esophageal cancer, but we still have a long way to go."
This study was presented April 29 at the American Association for Thoracic Surgery Annual Meeting in Seattle. Research presented at conferences may not have been peer-reviewed.
Dr. Stiles and team disclosed no funding sources or conflicts of interest.