Nivolumab over docetaxel for patients with NSCLC
Tuesday, September 15, 2015
Nivolumab offers better outcomes than docetaxel for patients with advanced squamous-cell non-small cell lung cancer (NSCLC) whose disease progresses after first-line therapy, according to the findings of a study published in The New England Journal of Medicine. Clinical Oncology News invited Ashish Saxena, M.D., Ph.D., assistant professor of medicine in thoracic oncology, to provide a commentary on the impact of the findings. Read the whole story here.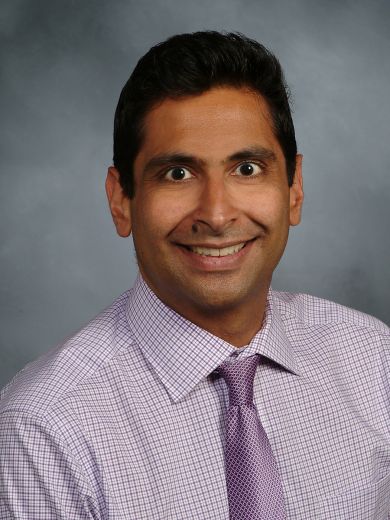 Ashish Saxena, M.D., Ph.D. Led by studies in metastatic melanoma, immune checkpoint inhibitors have shown impressive efficacy results for the treatment of multiple tumor types. These agents, which include antibodies to CTLA-4 (ipilimumab) and to PD-1 (nivolumab; pembrolizumab) and PD-L1, block the inhibition of activated T-cells by suppressing the signaling pathways associated with their respective targets. By blocking these inhibitory signals in T-cells, checkpoint inhibitors allow the cells to remain activated and effect tumor killing.
Promising early-phase studies with PD-1 inhibitors in lung cancer were greeted with much enthusiasm. The CheckMate 017 Phase III trial now presents practice-changing data on the use of the PD-1 inhibitor nivolumab for the second-line treatment of advanced squamous cell lung cancer. Treatment options for this particular histology have been more limited compared with those for adenocarcinoma of the lung, making the results of this trial all the more exciting. Nivolumab treatment resulted in significantly improved response rates, progression-free survival, and OS compared with docetaxel, a previous standard of care for advanced squamous cell lung cancer in the relapsed setting. Additionally, nivolumab had a better toxicity profile than docetaxel. Although the REVEL trial showed that the addition of ramucirumab to docetaxel also resulted in better overall and progression-free survival for NSCLC treatment in the second-line setting compared with docetaxel plus placebo, these improvements were not as dramatic as those seen in CheckMate 017. While cross-trial comparisons are difficult to make and REVEL was not powered for histologic subgroup analysis, it would appear that nivolumab likely leads to better survival results compared with docetaxel plus ramucirumab in squamous cell lung cancer and with fewer AEs.
Another important result of CheckMate 017 was that the survival benefits seen with nivolumab were independent of tumor PD-L1 expression status, making this treatment appropriate for a larger group of squamous cell patients. Based on work by other groups, it is possible that tumor mutational burden may be a better biomarker for response to anti-PD1 therapies in NSCLC.
The FDA has approved nivolumab for the treatment of squamous cell lung cancer after progression with platinum-based chemotherapy, making this therapy more broadly available. As such, practitioners will need to become more familiar with the unique immune-mediated toxicities encountered with PD-1 inhibitors and more comfortable managing them. These agents also can have response patterns that differ from cytotoxic chemotherapy, with possible pseudoprogression seen on scans prior to tumor shrinkage. The higher cost of these agents also will need to be considered as they are used more widely. Finally, further trials should address if the benefits of nivolumab in relapsed, advanced-stage squamous cell lung cancer are also seen among patients with poorer performance status and in those with advanced age.
Overall, however, this study is likely to be a landmark trial in the treatment of advanced non-small cell lung cancer because it helps to establish immunotherapy as a standard of care option for patients with this disease. We are likely only at the beginning of this potential paradigm shift, with more immune checkpoint inhibitors being studied in clinical trials both alone and in combination. Trials also are examining these agents for front-line therapy in advanced NSCLC, as well as for earlier stages of the disease.