Lifting the smokescreen
Thoracic surgeon Brendon Stiles with patient MaryAnn Provenzano MaryAnn Provenzano has always been a rule follower.
The eldest of five, raised in Miami with a healthy dose of Catholic guilt, she eats healthy, exercises frequently, and has never smoked cigarettes or taken drugs.
So the lung cancer diagnosis she received on Jan. 3, 2013, at the age of 45, was a complete shock – not only to Provenzano, her friends and family, but also to her doctor, who had initially dismissed her patient's concerns as asthma.
It started with a shortness of breath that became increasingly intense, persistent and unresponsive to the asthma medications Provenzano had been prescribed. Then one night, while dancing at a Dave Matthews Band concert, Provenzano became so winded that she sat down suddenly and almost passed out when she stood back up.
"It was a sign that something was really wrong," Provenzano said.
She made an appointment with her doctor and asked for an X-ray. The doctor declined.
"I did something that a lot of people don't do: I insisted," Provenzano said. "I don't blame my doctor. I don't look like the person who has lung cancer. I didn't present a lot of the classic symptoms. But because of that X-ray, I'm standing here today."
The X-ray and subsequent scans revealed a cancerous tumor the size of a golf ball on her right lung. Within three weeks, she was on the operating table of thoracic surgeon Brendon Stiles, M.D., who performed minimally invasive surgery to remove the tumor. The surgery was a success, and MaryAnn remains free of disease three years later.
"I'm happy to say she's cured, and she's going to stay that way," Stiles said.
Look for Zebras 
MaryAnn recently shared her story, standing alongside Stiles, to an auditorium full of first-year medical students at Weill Cornell Medical College.
"When someone is coming to you and presenting with something that doesn't necessarily look like lung cancer, remember me. I know you're taught that when you hear hoofbeats, think of horses, not zebras. I think you should look for zebras."
Provenzano and Stiles challenged the students to think outside the box when it comes to lung cancer. Referencing a classic Virginia Slims cigarette ad, Stiles delivered a talk titled "Lung Cancer – You've come a long way, baby," which outlined the history of lung cancer understanding, detection and prevention, and reviewed some of its biology and treatment strategies.
"Lung cancer can masquerade as a lot of things," Stiles said.
It also comes in many different forms, and it is important to try to learn as much about each tumor as possible – its genetic basis, mutation, and stage of growth can all affect treatment options and outcomes, Stiles said.
"We are not just talking about one disease, but rather four, five, even six diseases," he added. "Small cell lung cancer, for instance, is a totally different beast from the more common adenocarcinoma. It's aggressive and it metastasizes rapidly."
Some lung cancers are good candidates for precision medicine – personalized therapies targeting specific genetic mutations. Other cancers can be removed via minimally invasive surgery; caught at an early stage, up to 73 percent of patients survive longer than five years after surgery. Later stage treatments – often involving chemotherapy, surgery, radiation, or a combination of the three – are less successful, with five-year survival rates from 5 to 25 percent.
Stiles said the rise in targeted therapies has provided oncologists with a much better toolbox to tackle the disease. But early hopes that targeted therapies might be magic bullets to cure the cancer have not borne fruit, due in part to the high mutation load in most lung cancers and their tendency to evolve as they grow and spread. This could make lung cancer patients good candidates for immunotherapy, however; the greatest early successes in this emerging treatment have been found in cancers with several mutations, as they provide more battlegrounds for the immune system to launch its attack.
Lifting the smokescreen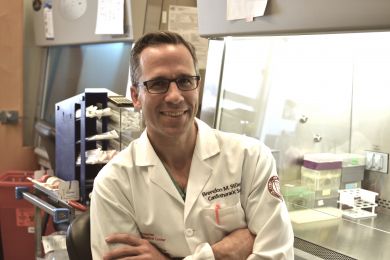 Brendon Stiles, M.D. Stiles noted that lung cancer's toll on society is significant – lung cancer kills more people than breast, prostate and colorectal cancer combined. There's evidence that its incidence among female non-smokers is on the rise. And the impact is becoming increasingly global. There are now an average of 1.8 million lung cancer diagnoses per year, and 1.6 million deaths from the disease.
"There's a boom coming in countries in Asia and Africa, where people are smoking more," Stiles said. "Environmental factors, such as cooking oil vapors and the indoor burning of coal and wood are also contributing to lung cancer cases in developing nations."
Stiles warned that pollution could cause the next big jump in lung cancer cases. A European study conducted in 2013 showed that the incidence of lung cancer increased 36 percent for every increase of 10 micrograms per cubic meter of particulate matter. The most concentrated particulate matter pollution resulting from the burning of fossil fuels by transportation and industrial sources tends to be in densely populated metropolitan areas in developing countries such as Delhi and Beijing, where weekly values often hover around 100 micrograms per cubic meter. According to the World Health Organization, this concentration should not exceed 25 micrograms per meter.
He urged the aspiring doctors to become advocates of the diseases they study. Stiles himself is a board member of several scientific and fundraising foundations dedicated to lung cancer, and is active on social media and among patient groups.
"Go to the lab, collaborate with scientists. Meet patients. Become a citizen of the medical community," Stiles said.
Stiles and Provenzano also urged the students to help challenge the stigma of lung cancer.
"The face of lung cancer has changed tremendously, and I'm living proof of that," Provenzano said.
Successful recovery after lung cancer surgery may rely on more than just the skill of the surgeon – new studies suggest that patients' age, gender, race, method of payment, and underlying medical conditions also play a part.  
In addition to studying the origins of lung cancer, best surgical practices, and potential new treatments, thoracic surgeon Brendon Stiles, M.D., has been working with colleagues at Weill Cornell Medicine, Cornell University and NewYork-Presbyterian to analyze patient metrics, such as optimal length of stay in hospital and readmission rates.
"Decreasing the length of stay for commonly performed cardiothoracic procedures has the potential to save significant costs and would allow for increased access to hospital beds for other patients," he wrote in a paper published in the European Journal of Cardio-Thoracic Surgery. "But this must be weighed against the potential for increase readmissions in patients leaving the hospital early after major procedures."
Analyzing two years of discharge data from 13,099 patients from California, Florida and New York who had pulmonary lobectomies without subsequent complications, Stiles and colleagues found a median length of stay of five days. Longer stays were driven by a "constellation of factors," they noted. These included older age, male gender, and concurrent health conditions.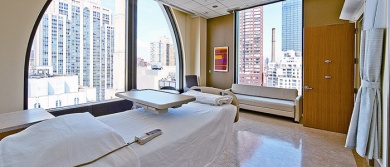 Having Medicaid was also strongly associated with increased length of stay compared with private insurers or Medicare.
"This seems logical, as Medicaid patients can be expected to have less resources and/or social support at home," Stiles said. "Interestingly, self-pay patients also had longer length of stay, suggesting that different expectations may be applied to these patients as well."
Hospital volume was also a critical determinant of length of stay. Hospitals handling fewer procedures were twice as likely to exceed the median length of stay.
"It is likely that higher volume hospitals have more established enhanced recovery pathways both for postoperative care and for discharge planning," Stiles said. "It would seem that such pathways could be exported to lower volume hospitals when resources allow."
Surgical approaches also influenced length of stay. Patients who underwent minimally invasive surgery stayed in hospital an average of one to two days less.
'Clearly, surgical centers wishing to minimize their length of stay should consider minimally-invasive procedures," Stiles said. "At New York-Presbyterian, more than 90 percent of our cases are minimally invasive, using operating telescopes. It's led to fewer complications, shorter length of stay, lower readmissions and lower costs."
In a separate study presented in January at the Annual Meeting of The Society of Thoracic Surgeons, Stiles found that demographics similarly impacted readmission rates. He suggested that they be taken into consideration when identifying patients at risk, and that hospitals consider interventions such as patient education, medication reconciliation, timely clinic appointments, and early communication with the primary care physician.
Stiles said the studies reinforce the notion that the optimal length of stay and discharge plan will be quite different for individual patients, and warned that the potential consequence of pushes for early discharge is a higher readmission rate, which comes with its own costs and higher risks for death.
"In our study, discharge at Day 2 for patients undergoing minimally invasive surgery and at Day 3 for patients undergoing open lobectomy, were associated with the lowest readmission rate. Discharge prior to those time points was associated with what appeared to be excessively high rates of readmission, the downside of which probably outweighs the benefits of sending the patients home early," he said.
He also cautioned against using length-of-stay and readmission data as a way to measure surgical quality, as some have suggested.
"They are perhaps best viewed as 'patient metrics' rather than surgical quality metrics, as they are highly dependent upon many factors which are outside of the control of the operating surgeon," Stiles said.