A $3m boost to help identify lung cancer therapy targets
Monday, September 21, 2015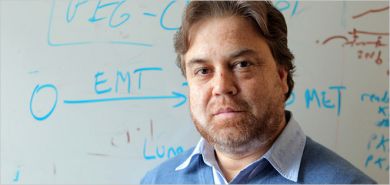 Vivek Mittal The National Cancer Institute awarded Houston Methodist and Weill Cornell a multi-million dollar U01 grant to identify non-small cell lung cancer (NSCLC) therapy targets by identifying how tumors interact with surrounding cells.
The NCI awarded the $2.8 million, five-year grant to Stephen T.C. Wong, Ph.D., P.E., Chair of the Department of Systems Medicine and Bioengineering at Houston Methodist Research Institute, and Vivek Mittal, Ph.D., director of the Neuberger Berman Foundation Lung Cancer Laboratory at Weill Cornell Medical College.
The two bring together a team of researchers focused on manipulating a tumor's microenvironment and figuring out how the tumor communicates with surrounding non-cancerous cells. Current cancer drugs focus specifically on the tumors themselves, and research has already proven that cancer behaves differently in a variety of environments.
The supporting stromal tissue of the lung contains tumor suppressing properties, but as a tumor develops, the stroma adapts to promote tumor growth and invasion. This relationship relies on communication between the tumor and stroma, known as crosstalk pathways. Wong's and Mittal's research explores these tumor-stroma crosstalk pathways as a largely untapped source of drug targets.
Wong's proprietary lab houses a computational model (P2GWAS) that uses powerful algorithms to analyze more than 10,000 known drugs, with the end goal of identifying drugs that can be repurposed for new uses. This analytical technology is similar to the computer-aided design models used by physical scientists in designing automobiles and aircraft.
By predicting tumor-stroma crosstalk signaling pathways based on data generated from clinical specimens in Mittal's lab, the work has tremendous potential for the identification of therapeutic strategies that may complement existing cancer treatments.
"If our preclinical studies prove successful, we may bypass the traditional Phase I safety study and go directly to a human clinical Phase II study, increasing the odds for drug approval. This project is a prime example of our research mission to find cures faster," said Wong, a professor of radiology, neuroscience, pathology and laboratory medicine at Weill Cornell Medical College.
Wong's team has already proven that chloroquine, a malaria drug used since the 1940s, is helpful against triple negative breast cancer. Houston Methodist cancer researchers are currently conducting a Phase II clinical study.
According to the American Cancer Society, lung cancer accounts for about 27 percent of all cancer deaths and is the leading cause of cancer death among both men and women. Each year, more people die of lung cancer than of colon, breast, and prostate cancers combined.