Immunotherapy gains traction as potential malignant pleural mesothelioma treatment
This is an excerpt of an article that appeared in Oncology Times. Read the full story here.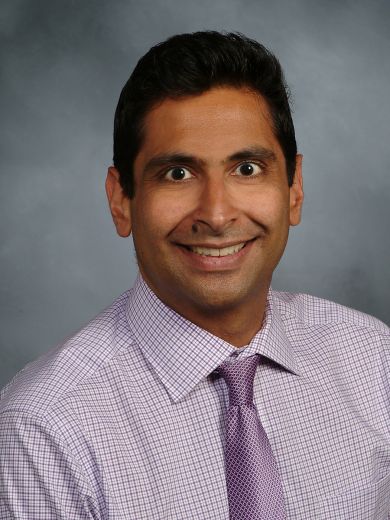 Ashish Saxena, M.D., Ph.D. Immunotherapy may expand its reach to patients with advanced malignant pleural mesothelioma (MPM), an aggressive, rare lung cancer associated with asbestos exposure. The first round of results from the ongoing phase II trial MAPS-2 revealed that at 12 weeks of treatment, 44 percent of patients who received nivolumab alone and 50 percent of patients who received nivolumab plus ipilimumab combination had their disease controlled. Nivolumab and ipilimumab are immune checkpoint inhibitors, a category of immunotherapies. The early findings were presented at the 2017 ASCO Annual Meeting (Abstract LBA8507).
The first-line treatment for MPM is pemetrexed plus cisplatin, the median overall survival (OS) of which tends to fall between 13 and 15 months. All patients eventually relapse.
"While the results [from this study] are not spectacular in the sense of very high response rate and prolonged overall survival—which you really couldn't assess from this—they do demonstrate that these agents have activity even in this group of patients with extremely poor prognosis," said David Sugarbaker, M.D., Professor and Chief of Division of General Thoracic Surgery at Baylor College of Medicine, Houston.
"They're early results [and] they need more follow-up, but they were very exciting showing the efficacy of the immunotherapy," said Ashish Saxena, M.D., Ph.D., an oncologist at NewYork-Presbyterian Weill Cornell Medical Center. The reason for this, he explained, is oncologists don't have many "good" options for patients with unresectable MPM after they progress on standard frontline therapy.
The ongoing MAPS-2 trial conducted in France enrolled 125 patients with advanced MPM who had received one or two prior lines of therapy and had unresectable disease. Most participants were male and the median age was 72 years. Participants were randomly assigned to receive either nivolumab 3 mg/kg via infusion every 2 weeks or nivolumab 3 mg/kg via infusion every 2 weeks plus ipilimumab 1 mg/kg via infusion every 6 weeks.
The first endpoint was disease control rate (DCR) at 12 weeks of treatment. Secondary goals included safety, progression-free survival (PFS), and OS.
Data were reported for the first 108 treated patients. DCR was similar for both arms, 44 percent for nivolumab and 50 percent for combination. The response rate was 19 percent in the nivolumab arm and 26 percent for the combination arm. The study was not designed to compare treatment arms.
After a median follow-up of 10.4 months of the 125 patients on study, the DCR for both arms was similar to those of the 108 treated patients: 40 percent DCR for the nivolumab arm and 52 percent for the nivolumab plus ipilimumab arm. For the 125 patients, the median PFS was 4.0 months for the nivolumab arm and 5.6 months for the combination arm. The preliminary median OS was 10.4 months for the nivolumab arm and not reached for the combination arm.
"Anytime in mesothelioma that you see a positive effect on survival by any combination, either chemo or immunotherapeutic drugs, you have to get encouraged and somewhat excited because it's really been a very, very tough disease to treat all the way around," Sugarbaker explained.
Saxena complimented the inclusion of patients with sarcomatoid or biphasic histology in addition to those with the typical histology, epithelioid. He noted patients with sarcomatoid or biphasic histology typically do worse than those with epithelioid histology.
The proportion of sarcomatoid or biphasic patients was similar for each arm, 19 percent for the nivolumab arm and 15 percent for the combination arm.
Despite including those patients, the study demonstrated a "pretty good" survival and DCR. "You might think that including those people [could] drag the numbers down, but it didn't seem to," Saxena said.
...
Although the study wasn't designed to compare the arms directly, Saxena said the higher toxicity and longer median PFS in the combination arm "fits in" with the "general" trends seen when drugs are combined.
"A lot of times we can get more progression-free survival, but then it comes with a trade-off of the toxicity," he said. "We still don't know whether doing nivolumab alone would be better and less toxic than doing the combination, so I think more data will probably come out about that, even within this study, as they do more analysis."
...
"This [MAPS-2] study adds data to the general idea that you can give something other than chemotherapy for patients in this situation," Saxena said. "I don't think that we could say one particular immunotherapy drug is better than another at this point," he noted regarding the variety of immunotherapies being evaluated in trials. "We're still a little bit on the earlier side of just showing that the idea of giving immunotherapy is something that could work for mesothelioma."