Weill Cornell Medicine joins colorectal cancer 'Dream Team'
Lew Cantley and Katie Couric at Stand Up to Cancer/AACR announcement event It usually takes about 15 years for lab discoveries to find their way into clinical use, but it may take just 15 months for a basic research finding by scientists at the Meyer Cancer Center of Weill Cornell Medicine and NewYork-Presbyterian to make its way into clinical trials at multiple cancer centers.
A multimillion dollar grant from Stand Up to Cancer (SU2C)/American Association for Cancer Research (AACR) will help investigators validate their discovery that a subset of colorectal cancers are sensitive to vitamin C therapy.  
Weill Cornell Medicine is a member of a new "Colorectal Cancer Dream Team," that was announced Monday, April 3, at the Annual Meeting of the AACR in Washington, D.C.
The prestigious $12 million award from the entertainment industry-led SU2C foundation will create an interdisciplinary collaboration of scientists, clinicians, technicians and other experts from Memorial Sloan Kettering Cancer Center, Yale University, Case Western Reserve University and Weill Cornell Medicine.
Lewis Cantley, Ph.D., director of the Sandra and Edward Meyer Cancer Center and leader of one of SU2C's original five Dream Teams in 2009 ("Targeting P13K in Women's Cancers"), will head the nine-member Weill Cornell Medicine cohort.
Part of the money will fund human trials to validate earlier lab findings in cell cultures and mice that showed that high levels of vitamin C, or ascorbate, effectively killed certain types of colorectal cancers.
Colorectal cancer is the third most-common cancer diagnosed in the United States, with about 93,090 new cases each year. Around half of those cases harbor mutations in the KRAS and BRAF genes; these forms of the disease are more aggressive and don't respond well to current therapies or chemotherapy. KRAS mutations are also found in 95 percent of pancreatic cancer cases, and up to 25 percent of non-small cell lung cancer cases.
Trojan horse killer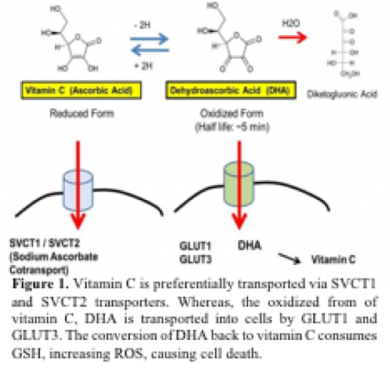 In a study published November 2015 in Science, Cantley's team found that high doses of vitamin C — roughly equivalent to the levels found in 300 oranges — impaired the growth of KRAS mutant and BRAF mutant colorectal tumors. While conventional wisdom is that the antioxidant feature of vitamin C improves health by preventing or delaying some types of cell damage, Cantley discovered the opposite was true in this case.
KRAS-mutated cells make unusually large amounts GLUT1, a protein that transports glucose across the cell membrane, supplying cancer cells with the high levels of the nutrient they need to survive. GLUT1 also transports the oxidized form of vitamin C, dehydroascorbic acid (DHA), into the cell.  Normally, only a small fraction of vitamin C in the blood stream is converted to DHA but in the microenvironment of KRAS mutant tumors, reactive oxygen generated by the tumor converts much of the vitamin C to DHA, which can enter the tumor rapidly.
Once inside, the DHA acts like a Trojan horse. Natural antioxidants inside the cancer cell attempt to convert the DHA back to ascorbic acid (Vitamin C); in the process, these antioxidants are depleted and the cell dies from oxidative stress.  In this case, the tumor generates its own Trojan horse to commit suicide. 
These findings, led by Jihye Yun, Ph.D., a postdoctoral fellow in the Cantley lab, in collaboration with Assistant Professor Lukas Dow, Ph.D., provided a mechanistic rationale for exploring the therapeutic use of vitamin C to treat KRAS or BRAF-mutated cancers. So Cantley partnered with Manish Shah, M.D., director of Weill Cornell Medicine's Gastrointestinal Oncology Program, to design a clinical trial to test the safety and efficacy of intravenous ascorbate as a treatment for KRAS mutant cancers, identify who is most likely to respond, learn more about the basic science mechanisms involved in the responses, and collect some early evidence of clinical benefit.
Human trials
The SU2C proposal involves trials on two groups of patients. The first would be those about to undergo surgery for colon, pancreatic or lung cancer. In the four weeks leading up to their surgery, they would receive regular vitamin C infusions, up to four days per week. Scans would be taken at the beginning and end of that period, and samples of their tumors collected during their surgery. Those samples would undergo extensive genetic sequencing, and pieces of the tumors would be grown as "organoids" that could be further studied and transplanted in mice. Researchers wouldn't know the patients' mutation statuses until after the trial was already underway, but that information would be used afterwards to see how patients with KRAS and BRAF mutations responded compared to those without those mutations.
"We would expect and hope to see some tumor shrinkage among those with KRAS and BRAF mutations," Cantley said. "Increased time to progression or quantified stable disease would also be considered a good response."
The second group would be previously treated patients known to have KRAS or BRAF mutations, whose tumors were non-responsive to traditional therapies, or whose diseases had metastasized. They would receive the same infusions, for up to six months, with a three-month check to see disease response.
If there appears to be a clinical benefit, additional trials could be designed to determine optimal efficacy and dosage, and to compare therapeutic results against other treatments, such as current chemotherapy-based standard of care or combination therapy. 
Targeting other mutations
Cantley's expertise will also be valuable for a second project included in the Dream Team proposal: developing a combination therapy to target PIK3CA mutations, which account for 20-30 percent of colorectal cancers.
Cantley, who discovered the enzyme family PI3K (Phosphatidylinositol-4,5-bisphosphate 3-kinase), will work with Zhenghe John Wang, Ph.D., who later discovered that PIK3CA, which encodes the p110α catalytic subunit of PI3K, is often mutated in a variety of human cancers.
A major effort has been undertaken to develop drugs to inhibit p110α, but they have not been very successful on their own.
Wang, leader of the Case Comprehensive Cancer Center cohort of the Dream Team, has designed a trial to test a combination of drugs that draws upon new findings about glutamine metabolism in these cancers. Preclinical trials of the combination – a glutaminase inhibitor plus the chemotherapy drug capecitabine (Xeloda) -- in mice showed significant tumor shrinkage in PIK3CA mutant tumors.
Other projects included in the Dream Team proposal involve evaluation of new drug combinations to improve on cancer immune therapy.
Other Weill Cornell Medicine investigators on the Dream Team include: Karla Ballman, Ph.D., chief of the Division of Biostatistics and Epidemiology; Olivier Elemento, Ph.D., associate professor of computational genomics in computational biomedicine; Giorgio Inghirami, M.D., professor of pathology and laboratory medicine; Himisha Beltran, M.D., clinical lead at the Englander Institute of Precision Medicine; Steven Gross, Ph.D., professor of pharmacology; and John Babich, Ph.D., professor of radiopharmaceutical sciences.
Dr. Cantley serves on the Board of Directors of Agios Pharmaceuticals and the Scientific Advisory Board of Enlibrium, companies developing drugs that target cancer metabolism. He is also founder of Petra Pharma Corporation, a company developing small molecule inhibitors for the treatment of cancer.