Inhibiting the PI3K Pathway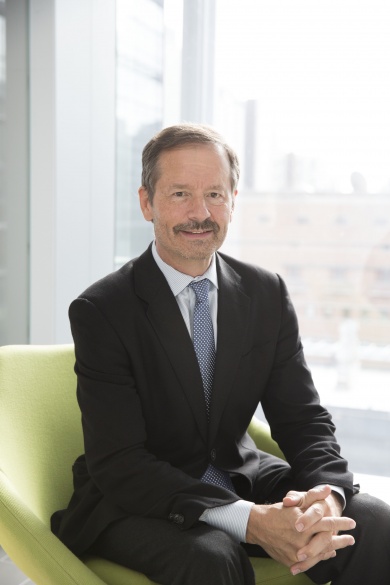 Dr. Lewis Cantley Which breast tumors will respond to a phosphatidylinositol 3 (PI3K) pathway inhibitor?
To answer that question first requires an understanding of the PI3K pathway, which plays a critical role not only in cancer, by mediating cell transformation via oncogenes, but in stimulating insulin-dependent glucose uptake and metabolism.
Discovered in 1985 by Lewis C. Cantley, Ph.D., and colleagues at Tufts University School of Medicine in Boston, MA, the PI3K pathway is one of the most mutated in human cancer. Mutations in PIK3CA, the gene that encodes the p110α subunit of PI3K, are associated with antiestrogen resistance in estrogen receptor-positive breast cancer.
To date, however, tumor response to a PI3K inhibitor cannot be predicted, which has led to myriad clinical trials of agents targeting this signal transduction pathway.
The goal: to find an approach that "will accelerate personalized cancer care that can be incorporated into standard practice," according to the Stand Up to Cancer (SU2C) PI3K Dream Team, "Targeting the PI3K Pathway in Women's Cancers," which includes breast, ovarian, and endometrial cancers.
Dr. Cantley, Margaret and Herman Sokol Professor and Director, Sandra and Edward Meyer Cancer Center at Weill Cornell Medical College/Ronald P. Stanton Clinical Cancer Program, New York Presbyterian Hospital in New York, NY, and Team Leader for the SU2C PI3K Dream Team, one of the original five Dream Teams created in 2009, told Cancer Therapy Advisor that work completed by the group, a global consortium of investigators, has led to four "discovery trials" of PI3K inhibitors for breast cancer, three of which are still accruing participants.
The team has modeled their approach on the development of trastuzumab. In 2001, the finding that trastuzumab significantly improved median survival from 20.3 to 25.1 months in HER2-positive metastatic breast cancer was groundbreaking4; now, the agent is considered a standard of care for early-stage, HER2-positive breast cancer.
They hoped to find agents that target solid tumors such as breast cancer carrying PIK3CA gene alterations that work first in the metastatic setting, with the goal of moving use to the neoadjuvant setting.
Over four years, they tested more than 20 PI3K pathway-targeted agents as well as seven drugs targeting interacting pathways in 57 breast cancer cell lines to determine if potentially novel biomarkers could be identified.
...
Approximately 30% to 40% of women have breast cancer with PI3K mutations, Dr. Cantley said, with responses to date skewing towards those with wild-type mutations.
He predicts that, as with trastuzumab, PI3K inhibitors will be approved first in late-stage disease, with responses contributing to an understanding of their mechanisms of action.
However, "I really do think it would be when we go into adjuvant and neoadjuvant therapy we will see the biggest impact."
One intriguing finding of research with the PI3K inhibitors, underscoring the complexity of ongoing research, is that they increase insulin levels so high "that they override the inhibition of PI3K in the liver," impairing "the ability to inhibit PI3 kinase in the tumor."
For that reason, he said an endocrine consultant was brought in on the Novartis trials, who recommended metformin and other sodium glucose transporter agents be used to keep insulin levels as low as possible.
Dr. Cantley pointed to recent research that argues that "insulin resistance—more so than obesity—is driving incidence of breast cancer." This suggests that breast tumors may be responding to high levels of insulin, even in the absence of PI3K mutation.
"One should be very worried about that," he said, adding that one of the take-home messages of his decades of research is to "avoid sugar. Sugar is the worst culprit. If you can do a single thing that won't mean you are hungry all the time, avoid sugar."
In 2010, a global phase 3 study was initiated to compare invasive disease-free survival in patients with early-stage breast cancer treated with metformin versus placebo in addition to standard adjuvant therapy.
More than 3,500 patients have been randomized to oral metformin or placebo twice daily for up to 5 years in the absence of disease progression.
Data from this study, which is ongoing but no longer recruiting participants, is expected in late 2016.
This article first appeared in Cancer Therapy Advisor. The full text is available here.