How to be healthy at every age
ELLE magazine recently featured a decade-by-decade guide to women's health. Anne Moore, M.D., of the Weill Cornell Breast Center, weighed in on women's health in their 40s. Read the full feature here.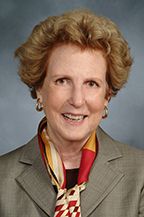 Anne Moore, M.D. It's time: You're allowed to consider limited hormone-replacement therapy to help with menopause symptoms. 
Insomnia, hot flashes, reduced sex drive…. As the Women's Health Initiative hormone-therapy study confirmed, long-term use of combination HRT (with estrogen and progestin) can slightly increase risk of breast cancer. But, says Anne Moore, MD, of New York-Presbyterian/Weill Cornell Breast Center, "one to two years is fine if there's no family history of breast cancer."