Pathway to collaboration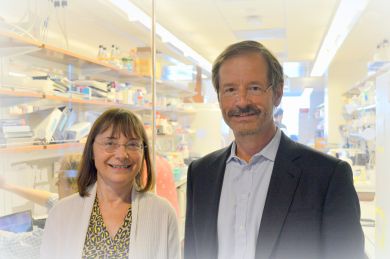 Karen Vousden and Lew Cantley She played a pivotal role in uncovering the importance of the "guardian of the genome," p53, and harnessing its potential as a target for cancer therapeutics. HIs discovery of the enzyme PI-3-kinase transformed our understanding of cancer metabolism. 
Now, two of the giants of cancer biology have come together to compare notes and strengthen cross-continental collaboration.
Karen Vousden, CBE, FRS, FRSE, FMedSci, director of the Cancer Research UK Beatson Institute in Glasgow, Scotland, recently spent a month at the lab of Lewis C. Cantley, Ph.D., director of the Sandra and Edward Meyer Cancer Center at Weill Cornell Medicine, as part of the Vallee Visiting Professorship program.
The Vallee program pairs outstanding scientists with premier biomedical research institutes worldwide in an informal arrangement that promotes intellectual exchanges and fosters new partnerships. The program was specifically designed to provide an intermediate alternative both to six-month or year-long sabbaticals, which can be disruptive to the head of an active laboratory.
"Month-long visits have proven to be a great success for planning research, conducting experiments, and establishing meaningful relationships—all without significant disruption to family life or other professional commitments," said Alexa Mason, executive director of the Vallee Foundation. "Many VVP visits have resulted in international and interdisciplinary collaborations, which have, in turn, generated new scientific research that likely would not have been undertaken without the Foundation's sponsorship."
Vousden's visit certainly ticked a lot of those boxes, she said.
She made the rounds at lab meetings of top scientists across New York City. She also met with young scientists, who were eager to share their knowledge and, in some cases, reagents and other tools. Vousden said she was exposed to new technologies and experimental approaches that she hopes to implement in her own lab.
"There's a lot of excellent science going on around here. I've learned an enormous amount, and I'm really keyed up to get back and get on with some of this work," Vousden said. "It was exciting and invigorating."
Vousden also gave a Dean's Distinguished Lecture about "Serine Metabolism and Cancer" – an emerging interest that overlaps with research in the Cantley lab.
Vousden's early work focused on the molecular biology of the human papillomaviruses, which are associated with cervical cancer. She worked with current NCI director Douglas Lowy, M.D., to pinpoint the specific viral oncoproteins required by HPV-16 to immortalize epithelial cells.
Later research focused on the suppressor protein p53, which plays a critical role in preventing the development of tumors by inducing damaged or stressed cells to commit suicide via apoptosis.
She has recently turned her attention to metabolic stress in cells – in particular, nutrient fluctuation and serine starvation. Serine and glycine are non-essential, but important, amino acids. Some cancer cells show amplified serine synthesis pathway activity, which allows them to make their own serine, but many other cancers are dependent on exogenous serine for maximal growth.
Vousden is studying how cells adapt - or fail to adapt – to serine starvation, and the role p53 plays in that process.
Cantley recently published about his lab's investigation of serine production in non-small cell lung cancer, and the role transcription factor Nrf2 plays in that process.
"It was great to discuss our findings with Karen and to get new insights into the interpretation of the data. Links between p53 mutations and alterations in metabolic control are being discovered at a rapid pace and Dr. Vousden is an international leader in this field," Cantley said.