Teenager helps ID new target for aggressive leukemia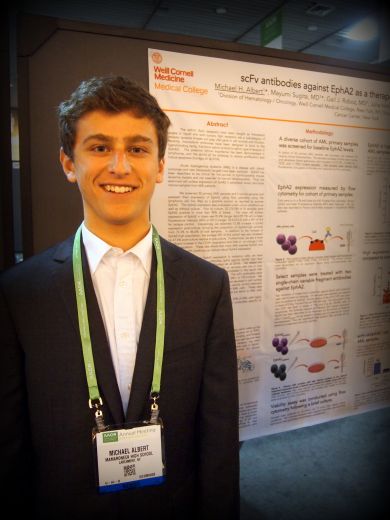 Michael Albert, 17, helped ID a potential drug target to treat acute myeloid leukemia When Linda Heineman was diagnosed with acute myeloid leukemia (AML), it was devastating for her 10-year-old grandson, Michael Albert. But the woman's battle with the aggressive form of leukemia also inspired the bright boy to turn his mind towards curing the cancer that claimed her life. A year after her death, the now 17-year-old high school student presented his research at America's largest gathering of cancer researchers.
Michael was the youngest member of the large contingent of Meyer Cancer Center researchers who descended on New Orleans on April 16-20 for the Annual Meeting of the American Association of Cancer Researchers (AACR).
A senior at Mamaroneck High School in Larchmont, N.Y., Michael spent two summers in the lab of Monica Guzman, Ph.D., after contacting his grandmother's doctor, Gail Roboz, M.D., about lab opportunities.
The first summer was spent learning simple and advanced lab techniques, such as flow cytometry, PCR and western blots. The second summer he delved into his own project, under the guidance of research associate Mayumi Sugita, M.D.
AML is the most common form of acute leukemia, representing 30 percent of the 300,000 American adults living with leukemia each year, but its unique and evolving individual biological characteristics make it difficult to cure with a one-drug-fits-all approach. Only 25 percent of patients with AML survive more than five years.
The Guzman Lab is devoted to finding new ways to treat the disease, and has identified potential targets to attack it on several fronts, such as the Hsp90 protein, Car-T cells engineered to home in on leukemia stem cells, and APAC.
As part of his project, Michael wanted to see whether ephrin receptors might also be good candidates as therapeutic targets. Ephrin (Eph) receptors are a subcategory of receptor tyrosine kinases that play vital roles in cell survival and function. Previous studies have shown promising results in lymphomas, and scientists at Memorial Sloan Kettering Cancer Center developed some monoclonal antibodies that block ephrin from binding with one of its receptors, type-A receptor 2 (EphA2).
"Ephrin is not essential for normal hematopoiesis, or the creation of healthy blood cells, but it is seemingly overexpressed in some tumors," Michael said. "Blocking it can cause dual inhibition of downstream molecular pathways that are understood to be key to cancer. So this would make it a good, specific, target for therapy, that would hopefully be less toxic than the current chemotherapy regimen which is not very effective."
Michael's first task was to see whether EphA2 was overexpressed in AML, as it is in lymphomas. He screened 30 samples of blood marrow and peripheral blood from AML patients, as well as five normal blood samples, and found that more than 70 percent of the AML samples had high EphA2 activity.
He then exposed a few of the samples to two antibody compounds created by MSKCC collaborator Juha Himanen, Ph.D. The result: significant death of the malignant cells, while the healthy cells remained unharmed. 
"This is a good proof of principle that EphA2 could be a target," Michael said.
The experience has also been a good proof of principle that Michael is ready to pursue a career in science.
He will be attending Northwestern University in the fall, and suspects there will be biology in his future, and perhaps medical school.
"To experience the profession of science in this way really turned the passion into an opportunity," Michael said. "Dr. Guzman has been wonderful. A lot of times I feel like your mentor is pushing for you and wants you to do well, but they just don't have the time for you. She made time for me. I felt like a contributor and an important member of the lab."
Most of all, Michael is grateful to his grandmother, and glad to be able to carry on her legacy by contributing to cures for patients like her.
"I'm appreciative to her for opening this door and inspiring me," he said.