The Treatment Challenges of Neuroendocrine Prostate Cancer
Friday, February 13, 2015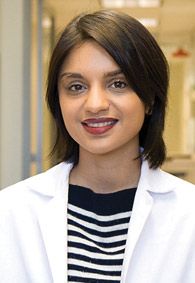 Himisha Beltran, M.D. Neuroendocrine prostate cancer is a high-risk, lethal subset of disease, often referred to as representing only two percent of all diagnosed prostate cancer. In fact, though, it probably occurs far more often because the disease is not recognized as different from metastatic castration-resistant prostate cancer.
That was the word from Himisha Beltran, M.D., assistant professor of Medicine in the Division of Hematology and Medical Oncology at Weill Cornell Medical College, speaking at the Chemotherapy Foundation Symposium, as reported in Oncology Times.
Men rarely undergo biopsy of their tumors once those tumors have spread to bone or soft tissue regions of the body, Beltran noted. So while only a few prostate cancers are diagnosed originally as neuroendocrine prostate cancer, many cases that develop after adenocarcinoma has evolved into neuroendocrine prostate cancer go undetected. She estimated that as many as one quarter of patients who are dying of prostate cancer are dying from treatment-related neuroendocrine prostate cancer.
The clinical features of the disease include frequent visceral and bulky soft-tissue metastases and limited duration of response to both hormonal therapy and cytotoxic chemotherapy.
"Some men who are initially responsive to potent androgen-deprivation therapy develop gradually progressive disease with bone and lymph node metastases and rising PSA," she said. "But men in this much smaller neuroendocrine group with resistant/refractory disease have rapidly progressive disease with metastases to liver and other abdominal visceral organs, and low PSA. They may even become worse on potent androgen-deprivation therapy."
This aggressive subtype of prostate cancer, with survival of approximately one year, most commonly evolves from preexisting prostate adenocarcinoma, she continued. And while it rarely arises de novo, the amount of neuroendocrine differentiation of prostate adenocarcinoma increases with disease progression and in response to androgen-deprivation therapy.
"Neuroendocrine prostate cancer does not express the androgen receptor and it's considered clinically hormone refractory. With the introduction of new highly potent androgen receptor-targeted agents into the clinic, such as abiraterone acetate, treatment-related neuroendocrine prostate cancer is becoming an even more important disease to recognize."
Beltran and colleagues have written that treatment-related neuroendocrine prostate cancer should be suspected in patients with castration-resistant prostate cancer who experience rapid progression with a low serum PSA, especially in the setting of potent androgen deprivation therapies (JCO 2012;36:e386-e389).
Patients with treatment-related neuroendocrine prostate cancer will likely not respond well to hormonal agents and may respond to platinum-based chemotherapy," they wrote. "In this new era of potent androgen receptor-targeted drugs, there is an evolving change in the clinical landscape of advanced prostate cancer, and we believe there is potential to drive tumors toward this more virulent form of prostate cancer."
Beltran is principal investigator in an ongoing multi-institutional single-arm, open-label Phase II trial evaluating MLN8237 (alisertib) in patients with histologically confirmed or clinically suspected metastatic neuroendocrine prostate cancer, which is sponsored by Weill Cornell in collaboration with Millennium Pharmaceuticals, Inc