Link between prostate protein and adrenal tumors provides new hope for rare cancer
New prostate cancer treatments could provide hope for those with a rare form of endocrine cancer, according to findings from Weill Cornell Medicine.
In a study of adrenal tumors, researchers and clinicians at the Sandra and Edward Meyer Cancer Center found that the malignant tumors had high expressions of prostate specific membrane antigen (PSMA).
This insight could lead to new diagnostic and therapeutic approaches for adrenocortical carcinoma (ACC), an uncommon and aggressive cancer arising in the cortex of the adrenal gland. The five-year survival rate for patients with stage I-III disease is 55–80 percent, but most tumors are discovered incidentally at a fairly advanced stage, where the survival rate is just 13 percent. Furthermore, even with surgical resection, 75-85 percent of patients will experience a relapse.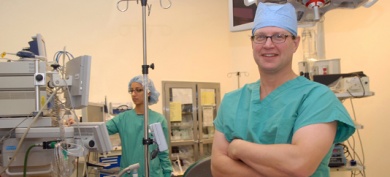 Thomas Fahey III, M.D. "More effective methods of both detection and treatment are definitely needed," said surgeon Thomas Fahey III, M.D., director of the endocrine oncology program, who led the study with graduate student Michael Crowley, MSc, and several other physicians, scientists and computational biologists from six departments across Weill Cornell Medicine and NewYork-Presbyterian.
In an effort to identify potential targets for therapy in ACC, the team performed mRNA sequencing on a set of 21 samples, comprised of normal adrenals, adrenocortical adenomas (benign tumors), and ACCs. They looked for signature proteins that might mark the cancer, and found one of particular promise: PSMA.
PSMA has become a hallmark of prostate cancer, as the cell-surface membrane protein becomes strongly upregulated in prostate carcinomas. It has also been found in the vasculature of other solid tumors, such as gastric, colorectal, bladder, liver, melanoma, lung, pancreatic, breast, and renal cell carcinomas.
Fahey's team discovered it was the most upregulated gene in ACC relative to all benign adrenal tissues, as they recently reported in the Journal of Clinical Endocrinology and Metabolism.
"PSMA is markedly overexpressed in the micro-vasculature of ACCs, and this can actually be visualized using PET scans and radiolabeled antibodies," Fahey said. "This may make it a good candidate for directed biologic therapy."
Monoclonal antibodies are proteins that can home in on a molecular target (in this case, PSMA) with high specificity; they have the ability to initiate immunological effects, block receptors, or sequester ligands. Researchers at Weill Cornell Medicine are also investigating their use as vehicles to deliver highly cytotoxic radionuclides, drugs, or toxins to the desired cell population. Scott Tagawa, M.D. and Neil Bander, M.D., are currently leading clinical trials investigating the use of PSMA as a target of radioimmunotherapy.
Fahey suggested that ACC patients now be considered for such trials as well.
"Given the recent success of the anti-PSMA mAb J591 antibody in a phase I & II clinical trials, coupled with a need for viable alternatives for the treatment and imaging of ACC, expanding current clinical trials of anti-PSMA antibody to include ACC seems reasonable and even promising," he said.
Other authors on the JCEM study, which was supported by the Dancers Care Foundation, include: Theresa Scognamiglio, M.D., Yi-Fang Liu, M.D., David A Kleiman, M.D., Toni Beninato, M.D., Anna Aronova, M.D., He Liu, M.D., Yuliya S Jhanwar, M.D., Ana Molina, M.D., Scott T Tagawa, M.D. Neil H Bander, M.D., Rasa Zarnegar, M.D., and Olivier Elemento, Ph.D.