First-in-class antibody-drug conjugate shows promising preliminary results for metastatic platinum-resistant urothelial cancer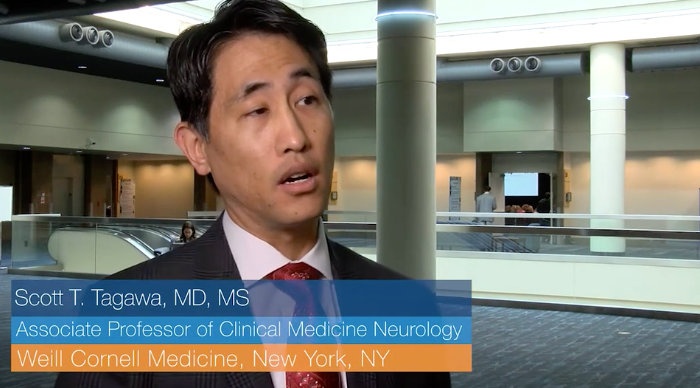 Scott Tagawa, M.D., M.S., spoke to MDLinx in this video about the results of a phase I/II trial of Sacituzumab govitecan (IMMU-132), an anti-Trop-2 antibody-drug conjugate (ADC), which has demonstrated early efficacy in patients with metastatic platinum-resistant urothelial cancer (PRUC), and a favorable toxicity profile that warrants further study of the 10 mg/kg dosage, as presented at the American Association of Cancer Research Annual Meeting 2016.
"[This drug] is an ADC. The target is Trop-2. Trop-2 is a cell surface antigen that is expressed in a wide variety of epithelial cancers. The initial phase I portion was done in refractory solid tumors. We decided to do a phase II expansion in platinum-resistant urothelial carcinoma," began Scott T. Tagawa, MD, MS, associate professor of clinical medicine, urology, at Weill Cornell Medicine, New York, NY.
"Overall, urothelial carcinoma is reasonably common if you take all grades and stages, more than 60,000 to 65,000 just in the bladder per year, and there's also an incidence in the upper tract, which is the ureter and the renal pelvis," he explained. "Most of them are localized disease that are treated with surgery and/or intravesical therapy, but somewhere between one-quarter and one-third will often go on to progress and develop metastatic disease or advanced disease," he added.
IMMU-132 is an ADC that confers a high drug:antibody ratio of 7:6, and has been found, in a human cancer xenograft, to be capable of delivering up to 136-fold more SN-38—an active metabolite of irinotecan—than irinotecan, the parent drug of IMMU-132.
"We are quite hopeful in urothelial carcinoma as well as in a lot of other cancers with immunotherapy. In particular, the PD1 and PDL-1 checkpoint inhibitors look exciting. Like in other cancers, those patients that respond can have a durable response, with a generally good overall toxicity profile. But it's a limited patient population," he explained.
Dr. Tagawa and colleagues are currently conducting a phase I/II clinical trial (clinicaltrials.gov, NCT01631552) in patients with PRUC who are a median age of 68 years, 93% are male, 71% have ECOG 1, and 71% have visceral metastases. They have undergone a median of two prior chemotherapies (range: 1-5).
These patients are administered IMMU-132 on days 1 and 8 of 21-day treatment cycles, in doses of 8 mg (n=3), 10 mg/kg (n=10), or 12 mg/kg (n=1), and continue treatment until they tolerate it or until progression. Every 8 weeks, researchers assess safety and responses via RECIST 1.1.
In all, 14 of 15 patients were evaluable for this preliminary expansion study. In 6 patients, researchers found partial response, with an objective tumor response rate of 46% in 13 patients assessed via RECIST 1.1. The clinical benefit ratio (PR+SD less than 4 months) was 57%, the median progression-free survival (PFS) was 8.1 months, with 50% maturity, and the median overall survival (OS) was 10.8 months, with 79% of patients still alive.
Grade 3+ drug-related toxicities with a > 5% incidence (single events) include neutropenia in 9%, diarrhea in 9%, and staphylococcal bacteremia in 9%. Thus far, assessment via ELISA demonstrated that no patients have developed antibodies to either the antibody or the drug.
"The study is still ongoing, but what was interesting in the very initial part, with the phase I, —as well as with the expansion to phase II—is that we are seeing objective RECIST responses. As of right now, the preliminary data that is being presented is a 50% response rate by RECIST criteria. And these are in patients who have refractory disease, that have had a number of lines of prior therapy," said Dr. Tagawa.
"Based on the available results, I think this looks quite promising, to have a 50% response rate in a refractory patient population. This is yet another drug, I think, that will give us, as well as patients, some hope," he concluded.
Read more about the study on the What's New in GU blog.