Seeking a second line of defense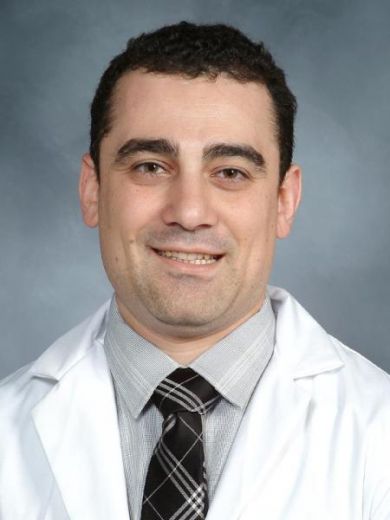 Bishoy Faltas, M.D. Bishoy Faltas, M.D., will never forget his first encounter with bladder cancer. The aspiring oncologist watched helplessly as his very first patient with this disease died after failing to respond to traditional chemotherapy.
For that patient, and many of the 75,000 of others like him who get diagnosed with bladder cancer in the United States each year, there is no second line of defense. There are no FDA-approved therapies for those with "platinum-resistant" forms of the cancer who fail to respond to cisplatinum or carboplatinum - the backbone of most chemotherapy drugs - or who have an initial response, but then relapse with rapid disease progression.
"I talked about it a lot with my clinic mentor, Dr. Scott Tagawa, who specializes in the treatment of genitourinary tumors, and I started to read about it. It was then that I realized that we really don't have any effective options for these patients," said Faltas, a clinical and research fellow in the Division of Hematology and Medical Oncology at Weill Cornell Medical College. "Nearly 16,000 people in the U.S. die of the disease each year, and we have not made a significant dent in that mortality in the last two decades."
"I decided to become a physician-scientist, to work in the lab to study the genomic landscape of bladder cancer and to help develop rational treatments based on an understanding of the biology of the disease," Faltas added.
He has already spent two years in the lab of Mark A. Rubin, M.D., the Homer T. Hirst III Professor of Oncology in Pathology and director of the Institute for Precision Medicine. Although the Rubin Lab primarily works on prostate cancer, its use of state-of-the-art genomic analysis and its focus on the concept of precision medicine attracted Faltas, whose goal is to generate a detailed molecular, transcriptomic and epigenetic profile of platinum-resistant metastatic urothelial carcinoma. Faltas's ultimate objective is to identify genomic drivers of the disease that could be targeted with novel therapies.
So far, instead of pointing towards a single, common mutation responsible for platinum resistance, Faltas has found a tremendous amount of heterogeneity, both within groups of patients and within the patient's own tumors. He has also found mutations that evolve as the disease progresses, adding further complexity and underlining the importance of tailoring treatment to each individual patient based on their unique mutational landscapes, Faltas said.
His efforts and aspirations will be recognized by the Conquer Cancer Foundation of the American Society of Clinical Oncology (ASCO), with a 2015 Young Investigator Award, conferred upon him on May 31, 2015 at a special ceremony at the association's Annual Meeting in Chicago, where Faltas also presented his research findings.
The Conquer Cancer Foundation is the philanthropic affiliate of ASCO, the world's leading professional organization representing physicians who care for patients with cancer, and the prestigious award is given to oncologists-in-training who are set to emerge as leaders at the national level.
The $50,000 grant attached to the award, funded through a grant supported by The John and Elizabeth Leonard Family Foundation, will allow Faltas to stay on in Rubin's Lab for an additional year – a boon in an area that has been historically underfunded. Faltas said there has been a renewed interest in bladder cancer recently, as people have started to realize its tremendous toll, but the funding environment is still challenging, especially for young physician-scientists.
"I am very grateful to ASCO and the Conquer Cancer Foundation for continuing to provide such support for me and other young investigators," he said.
Faltas is also grateful for the opportunity to pursue dedicated laboratory research training at Weill Cornell during and beyond his Hematology-Oncology fellowship. He said he specifically chose the college not only for its internal and tri-institutional resources, academic clout and mentorship opportunities, but also for its commitment to training the new generation of physician-scientists.
"It's an institution that is truly committed to developing physician-scientists," Faltas said. "In the current funding environment, many young physicians are choosing to stay in the clinic rather than pursue laboratory training because it's very difficult and requires many sacrifices.  I have been fortunate to have very supportive mentors who foster my scientific growth."
Faltas was also recently awarded first place in the Department of Medicine's research competition.