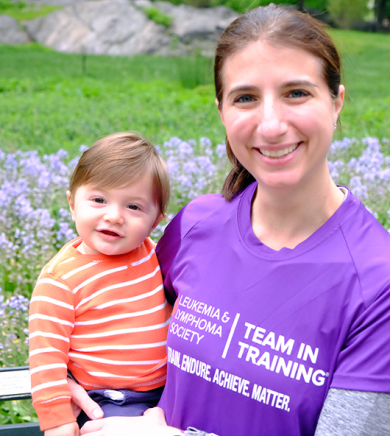 Lisa Roth, M.D., with her young son It's often said that doctors make the worst patients, and Dr. Lisa Roth admits that she was no exception.
In 2012, the pediatric oncologist was so focused on finding less toxic treatments for her young patients with leukemia and lymphoma that she paid little attention to a lump she noticed on her neck while on vacation.
"I told myself, 'I'm sure this is nothing,' then ignored it," says Dr. Roth, who was 33 at the time and newly married. "I was a bad patient," says Dr. Roth, now the director of the Adolescent and Young Adult Lymphoma Program at NewYork-Presbyterian/Weill Cornell Medical Center and assistant professor of pediatrics and of medicine at Weill Cornell Medicine.
But when the lump didn't go away, she eventually saw a doctor, who recommended a CT scan. When she looked at her own scan, she saw what no doctor wants to see.
"My heart fell," she recalls. "The little lymph node in my neck was part of a much larger tumor in my chest."
She knew immediately that the abnormal cells were lymphoma, a cancer that starts in the cells in the body's immune system.
When the diagnosis was confirmed as stage II Hodgkin lymphoma, "I knew my chances of surviving were pretty good," she says. People with stages I and II have a 90 percent five-year survival rate. Even those with the most-advanced stages have an 85 percent chance of surviving five years or more.
Still, the diagnosis "turned my whole world upside down and brought everything to a screeching halt," she says. "The experience of being a patient, of having to face the unknown, was a lot more difficult than I thought it would be. Even small things can be fraught with anxiety — waiting for scan results, getting a little fever or cough. Suddenly, you find yourself worrying, 'Is this the beginning of something much worse?'"
What was also challenging was having to stop work for five months during treatment. "I had patients in the middle of the same treatment I was about to go through," Dr. Roth says of telling them of her diagnosis, "and I had to leave them to care for myself."
Shortly after her diagnosis, she started chemotherapy treatments every two weeks. Within four months, her disease was in remission.
"Slowly, I was able to go to work and get my life back to where I'd left it."