Scientists push to expand survival rates for brain cancer patients
This is an excerpt of an article that appeared in the Palm Beach Daily News. Read the full story here.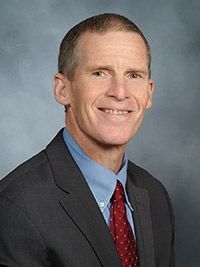 It is the most complex organ in the human body.
It makes possible our thoughts, emotions and movements and enables us to perceive and react to the world around us.
When cancer strikes this delicate organ, doctors have limited tools available to fight the disease.
Only 25 percent of patients with primary brain cancers — those that originate in the brain, as opposed to those that migrate there from elsewhere — are still alive three years after diagnosis, according to Dr. Jordan Grabel, chief of neurosurgery at Good Samaritan Medical Center in West Palm Beach.
But a push to discover tumor-specific chemotherapy drugs and expand the use of immunotherapy agents may change that in coming years.
Surgery is more effective in extracting metastatic brain cancers — those that start in the breast, colon, skin or lung, for example — because they form tight balls. But the most common form of primary brain cancer, glioblastoma tumors, has finger-like projections that extend deep into the brain.
People with glioblastoma typically die within 16 months of diagnosis, according to Howard A. Fine, M.D., chief of neuro-oncology at NewYork-Presbyterian/Weill Cornell Medical Center.
But that organization is performing cutting-edge research designed to boost brain-cancer survival rates and to lengthen life after diagnosis.
The task is daunting. Without treatment, people with glioblastoma typically die within three months. Today's median survival rate of 15 to 16 months — brought about through surgery, radiation therapy and chemotherapy — is only a slight improvement over 12 months, the typical survival rate 30 years ago, according to Fine, who was the founding chief of the neuro-oncology branch at the National Institutes of Health.
Neuro-oncologists at NewYork-Presbyterian/Weill Cornell are breaking ground by taking stem cells from the tumor and using them to grow masses of tissue they affectionately call "mini brains." Scientists then can test different drugs or drug combinations — theoretically in the hundreds — on the organ-like structures, Fine said. That has the potential to identify the best treatment for a specific form of cancer without exposing a patient to toxic side effects, Fine said.
This type of precision or personalized medicine can be particularly helpful for patients with glioblastoma. The cancer's invasive nature and its many forms make it considerably harder to treat through surgery and other means, according to Fine.
"Although we call them all glioblastoma, we've learned genetically they are all dramatically different. Therefore, one size doesn't fit all for treatment," Fine said.
....
Science has not yet significantly improved the odds for brain cancer patients, unlike other forms of cancer, Fine said.
He advises those newly diagnosed with brain cancer to seek treatment at a center of excellence, because such facilities treat more patients and use cutting edge approaches that go beyond the existing standard of care.
"I've done this for 28 years and have treated 20,000 to 25,000 patients," Fine said. "I'm not satisfied with the standard of care — what it offers patients. I think we can and need to do better."