Stem cell transplant in myeloma: Necessity or choice?
Wednesday, February 10, 2016
This is an excerpt of an article that appeared in Oncology Times. Read the full article here.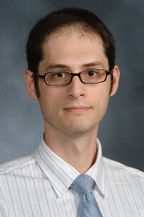 Tomer Mark, M.D. With increased depth of response from current myeloma therapies, there is an increasing pattern of increased overall survival, said Ajai Chari, M.D., Associate Professor of Medicine and Director of Clinical Research of the Multiple Myeloma Program at Mount Sinai Medical Center. "Even in this era of novel therapeutics, the quality of response correlates with progression-free survival. We need to move past current criteria for complete response (CR)."
Chari argued why autologous stem cell transplant (ASCT) is needed for patients with multiple myeloma during a debate here at the Lymphoma & Myeloma 2015: International Congress on Hematologic Malignancies.
Tomer Mark, M.D., MSc, Assistant Professor of Medicine in the Division of Hematology/Oncology at Weill Cornell Medicine, took the opposing side of the argument.
"We have such good therapy upfront, we may be able to go from induction to maintenance to achieve minimal residual disease (MRD)-negativity. Should we transplant patients who achieve CR or MRD-negative status? No. Must we use transplant as a means to get people into CR or MRD negative status? No," Mark said.
Transplant is a Tool, Not a Necessity
"Myeloma is not curable. The role of maintenance is to deepen response," Mark said.
Mark agreed there was no debate that MRD status is important because it can lead to a survival benefit. "People in CR do better if they achieve MRD-negativity. This leads to longer progression-free survival," he said.
He said he wondered why stem cell transplant is still recommended for patients in CR: "Stem cell transplant has an overall survival benefit. The caveat is that this data is old; very few patients (5-10 percent) achieve CR. Does remission deepen for CR? Patients who upgrade their response do better with transplant," Mark said.
Stem cell transplant deepens treatment response, but he wondered whether a remission deeper than CR matters for transplant. "Patients who achieve CR before transplant do not get this benefit after transplant. The impact of response to induction to achieve CR is pre-transplant, not CR post-transplant," he said.
"Do you need a transplant if you achieve CR with induction therapy?" he asked. One study took a retrospective look at 758 consecutive patients at MD Anderson Cancer Center undergoing induction followed by ASCT within one year of diagnosis. The landmark analysis based on response at two years after start of therapy found patients who upgraded their response with ASCT obtained a survival benefit. Patients with a CR prior to ASCT did not achieve a longer overall survival, he noted.
"Do we need transplant to get patients into CR or MRD-negativity?" Mark asked. "It is now possible to achieve CR and MRD-negativity with chemotherapy alone in an increasing fraction of people. This has proven to be possible with BiRd (Biaxin [clarithromycin]/Revlimid [lenalidomide]/dexamethasone) and carfilzomib-lenalidomide-dexamethasone—and certainly will become more the norm."
He suggested that for a patient with CR prior to transplant, "there is no reason to consolidate with high-dose melphalan."
With BiRD therapy, response deepens over time outside of transplant. "A good deal of patients who achieve CR also achieve MRD-negativity without transplant," he said, adding that for BiRD therapy and carfilzomib combinations maintaining MRD-negativity is the key to prolonged responses.
In conclusion, Mark said: "CR and MRD-negativity is the goal for all patients. Increasingly more patients can reach MRD-negativity status without the use of ASCT. Achievement of CR prior to transplant gives an equal outcome to CR post-transplant." He noted that transplant studies with MRD detection may strengthen or disprove this conclusion.
"Continuing induction chemotherapy may be all some people need," said Mark. "I agree that some patients need to get to transplant to achieve CR or MRD-negativity, but the choice is not a necessity. Transplant is a tool, not a destination."