Cantley among 7 Wolf Prize laureates
Thursday, January 14, 2016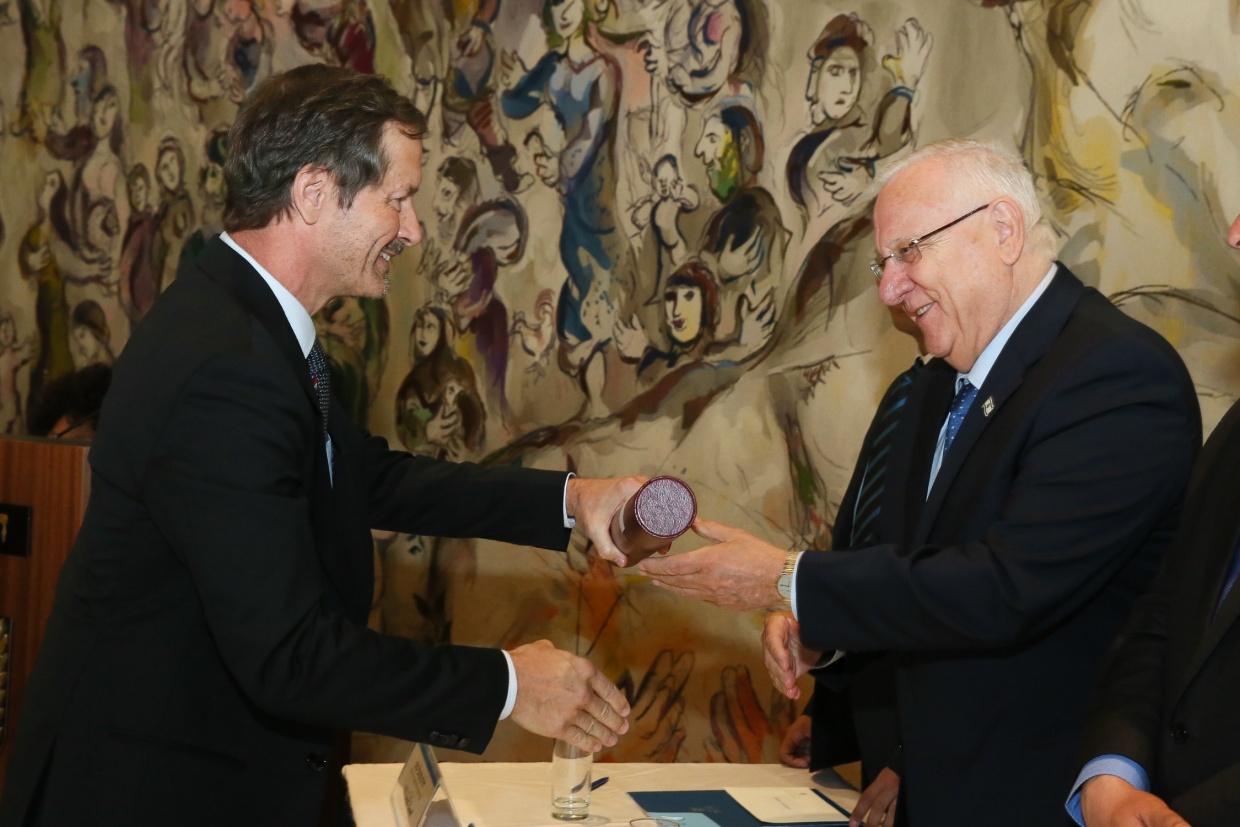 Lewis Cantley receiving the Wolf Prize from Israeli President Reuven Rivlin. Credit: Oded Antman
Seven winners of the Wolf Prize – considered "Israel's Nobel Prize" – were announced on Jan. 13 at an event attended by Education Minister, Wolf Foundation chairman Naftali Bennett and Prof. Dan Shechtman, vice chairman of the foundation and Wolf Prize winner himself.

The awards, worth $100,000 in each field ($500,000 in total), will be divided this year between seven winners from three countries – Israel, the US and Canada. The prize will be presented to the winners at the Knesset by President Reuven Rivlin. A significant number of the awards this year will be given to women.
Lewis Cantley, Ph.D., will share the Wolf Prize in Medicine with Prof. C. Ronald Kahn from Harvard Medical School, for pioneering studies defining insulin signaling and its alterations in disease. Kahn's work has been a key to elucidating the pathogenesis of type II diabetes. His observation that the insulin receptor transmits insulin signals through activation of an intrinsic protein tyrosine kinase was the first step in unraveling the insulin signaling cascade. These studies formed that basis of our present detailed understanding of the pathogenesis of insulin resistance, and in contemporaneous clinical studies, Kahn showed that insulin resistance precedes and leads to type II diabetes.

Cantley is being recognized for his discovery of phosphoinositide- 3 kinases and their roles in physiology and disease. Cantley is widely recognized for his seminal contributions to understanding growth factor signaling, cellular metabolism, and tumor formation. Indeed, genetic aberrations in this pathway are among the most common event in human cancer.
"It is a tremendous honor to receive this award, on behalf of myself and the incredible group of brilliant students, postdoctoral fellows and collaborators who I have worked with throughout my career to help elucidate the PI 3-kinase pathway and its role in cancer," Cantley said.
"It is also a privilege to share the prize with my former Harvard colleague and collaborator Dr. Kahn, whose pioneering work identifying and unraveling insulin signaling has facilitated our studies on the role of PI 3-kinase in mediating insulin responses."
Other prizes include:
The Wolf Prize in Agriculture to Prof. Trudy Frances Charlene Mackay, from the department of biological sciences at North Carolina State University, for pioneering studies on the genetic architecture of complex traits and the discovery of fundamental principles of quantitative genetics with broad applications for agricultural improvements.

The Wolf Prize in Chemistry to 

Prof. Kyriacos Nicolaou from the chemistry department at Rice University in Houston, who will receive his for advancing the field of chemical synthesis to the extremes of molecular complexity, linking structure and function and expanding our dominion over the interface of chemistry, biology and medicine; and Prof. Stuart Schreiber, from the chemistry and chemical biology department at Harvard University, who will receive the prize for pioneering chemical insights into the logic of signal transduction and gene regulation that led to important, new therapeutics and for advancing chemical biology and medicine through the discovery of small-molecule probes. 
The Wolf Prize in Physics to Prof. Yoseph Imry from Rehovot's Chaim Weizmann Institute of Science, for pioneering studies of the physics of mesoscopic and random systems. He is the primary founding father of mesoscopic physics – the study of systems that are much smaller than everyday (macroscopic) objects, but significantly larger than atoms. Imry originated and led the development of the principal concepts of this discipline, which is the foundation of nanoscience and nanotechnology.
The Wolf Prize in Arts to architect Phyllis Lambert of Canada, for being vigorously involved in the realization of seminal innovative buildings, exemplary urban regeneration projects and leading research institutes.

Dr. Liat Ben David, CEO of the Wolf Foundation noted: "The award laureates selected have a significant impact in the fields of scientific research and artistic practice and are endowed with exceptional talent. Each and every one of them is a beacon of excellence in their field."
This story was adapted from an article that first appeared in the Jerusalem Post.
Additional coverage:
Wolf Prizes for 2016 announced - The Wire
Israel's 'pre-Nobel' Wolf Prize awardees announced - The Times of Israel
Israel Honors Israeli, US Scientists, Canadian Architect - The New York Times