New scientific director at Richard T. Silver, M.D. Myeloproliferative Neoplasm Center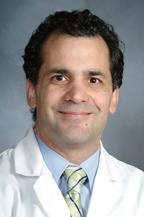 Joseph Scandura, M.D., Ph.D. Joseph Scandura, M.D., Ph.D., has been named Scientific Director of the Richard T. Silver, M.D. Myeloproliferative Neoplasm Center at Weill Cornell Medicine.
In this newly created position, Dr. Scandura will oversee clinical and basic research targeting myeloproliferative neoplasms (MPNs), a group of diseases causing excessive production of certain blood cells by the bone marrow. The primary laboratories of the Silver MPN Center will be located in the Sandra and Edward Meyer Research Building, in the Division of Hematology and Medical Oncology. Dr. Scandura will work in collaboration with Andrew I. Schafer, Director of the Silver MPN Center, and also with the Silver MPN Center's Director Emeritus, Richard T. Silver, M.D., for whom the center was named. 
The Silver MPN Center at Weill Cornell was created in 2011 through a generous grant by the Cancer Research and Treatment Fund, Inc. Richard T. Silver, M.D., the Center's namesake, has long been involved in the study and treatment of MPNs at Weill Cornell, and will continue to maintain a strong presence in working toward breakthroughs in the study and treatment of these diseases to which he has devoted his entire career.    
Chronic myeloproliferative neoplasms are diseases in which the bone marrow aberrantly makes too many red blood cells, platelets, or certain white blood cells. These diseases are caused by acquired abnormalities in hematopoietic stem cells (HSCs) leading to unrestrained production of mature blood cells from precursors in the bone marrow and other sites of blood formation. Chronic myeloid leukemia (CML) is always associated with a specific mutation called the Philadelphia chromosome (Ph). Drugs (pills) that target the Philadelphia chromosome have transformed CML from a progressive, incurable and fatal blood cancer to an asymptomatic chronic disease, for the vast majority of patients. There are many other non-CML MPNs, so called Ph-neg MNPs, for which current therapy has not been as successful, although significant advances have been made. These Ph-neg MPNs are comprised of the three major subgroups, polycythemia vera (PV), essential thrombocythemia (ET) and primary myelofibrosis (PMF). These disorders cause patients to suffer abnormal blood clots or bleeding and infrequently can become another type of blood cancer. The Silver MPN Center is conducting clinical and laboratory research to identify agents that can transform the treatment of these MPNs so that they no longer cause medical problems for patients and may even be cured. 
Dr. Scandura, who has appointments in both the Divisions of Hematology-Oncology and Regenerative Medicine of the Department of Medicine at Weill Cornell Medicine, has made major contributions to our understanding of hematopoietic stem cell biology, blood cancers and blood coagulation, as illustrated by some of his recent research reported in the medical literature. Dr Scandura is a Leukemia & Lymphoma Society Scholar and his research is funded by the National Institutes of Health, National Cancer Institute and National Heart, Lung, Blood Institute, and by the Empire State Stem Cell Board (NYSTEM), the Starr Foundation Tri-Institutional Stem Cell Initiative, the Taub Foundation and the Cancer research and Treatment Fund, Inc. 
Joseph Scandura received a B.S. in Electrical Engineering from Cornell University and an M.S. in Biomedical Engineering at the University of Pennsylvania. He then completed combined MD/PhD training in Biochemistry at Temple University in 1997. Dr Scandura was resident in internal medicine on the research track at Weill Cornell Medical College/ NewYork-Presbyterian, and then completed a Fellowship in Medical Oncology at Memorial Sloan-Kettering Cancer Center. Dr. Scandura subsequently joined the Leukemia Service at MSKCC in 2003 where he conducted laboratory research while serving as an inpatient attending on the Leukemia Service and maintaining an outpatient clinic treating MPNs and other blood cancers. In 2006, Dr. Scandura was recruited to the Division of Hematology and Medical Oncology at Weill Cornell Medicine, where he leads a laboratory group studying blood formation and conducts clinical research to improve treatment of blood cancers. Dr. Scandura maintains an ambulatory clinic treating MPNs and other myeloid neoplasms and also serves as attending physician on the inpatient clinical services for the Division.