Helping the poor fight cancer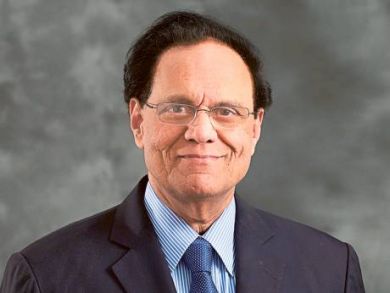 Dattatreyudu Nori, M.D. Dattatreyudu Nori, M.D., FACR, FACRO, FASTRO, was recently in India to receive the Padma Shri award from the Indian President Pranab Mukherjee. This high civilian decoration was awarded to a man who has dedicated his life to cancer research and humanitarian service, much of which was channelised to India to mitigate the pain and suffering of its vast impoverished population that cannot afford even basic medical treatment, let alone highly specialised therapy for that dreadful disease called cancer.
The degrees and titles suffixed to his name are a pointer to his high level of specialisation and expertise in the field of cancer.
Nori is a New York-based oncology expert who, besides the Padma Shri, has been honoured many times over with a plethora of awards and decorations. Nori, who has been received by international leaders, including American President Barack Obama and Indian Prime Minister Narendra Modi, contends that a simple cervical cancer test, devised and replicated by him for use in developing countries, can easily detect the problem and motivate the patients to work on their problem.
Nori received his Bachelor of Medicine from Kurnool Medical College in 1971 and a postgraduate degree from Osmania University in India.
Nori is a professor and the executive vice-chairman of the Radiation Oncology Department at the New York-Presbyterian Hospital-Weill Cornell Medical College in New York. He still remembers his struggle during early life and understands the plight of the less fortunate and downtrodden.
"While the rich have the means to get the best medical facility, the poor cannot even afford basic treatment," he told Weekend Review.
Familiar with the problems facing both the patients and the authorities providing medical care in many of the world's poor countries, Nori said a growing number of Asian women, including in India, were vulnerable to cervical cancer, which has a high mortality rate. Indeed, the rate of incidence of cervical cancer in women in India has risen sharply in recent years.
But how can he help the poor women in rural India, where there is little or no awareness of cervical cancer, with women generally shying away from visiting a doctor?
"In India, for example, I have developed a simple cervical cancer precaution programme through a simple test, which can also be used in other developing countries. Some 200 tests for cervical cancer are conducted in India each day. You don't even need a full-fledged medical doctor for the test. It can be carried out by trained volunteers. These tests are carried out in healthcare camps in several states in India," Nori said on his return from India after receiving the Padma Shri, which he described as a "great feeling to be recognised by your country of birth, and which renews your commitment to do more".
Ironically, when he was aspiring for admission to a US medical college in the 1970s, Nori's native India did not even have a centre for entrance examination for higher studies in the US. He had to fly to the Malaysian capital Kuala Lumpur which was the closest examination centre for the US-based Education Council for Foreign Medical Graduates at that time.
Highlighting the merits of preventive care and early detection, Nori cites the example of the US, which recorded about 60,000 cervical cancer cases a year two decades ago. However, aggressive preventive care combined with early detection methods brought down the figure to 13,000 cases a year.
The American media has hailed India-born Nori as one of the top 10 cancer specialists in the US. Indeed, a recent survey by the "Ladies' Home Journal" names Nori as one of the top cancer specialists in America for treating cancers in women.
Nori is credited with setting up a number of hospitals in India, including the Indo-American Cancer Hospital in Hyderabad, which has a capacity of 450 beds. This hospital was set up in 2001 with then Indian Prime Minister Atal Bihari Vajpayee attending the inauguration ceremony.
In the last four decades, Nori pioneered ways to improve cancer care for patients in both the US and India, providing his expertise to state governments and private organisations in India to establish comprehensive cancer programmes and centres.
As an authority in radiation oncology and brachytherapy, he played a major role in the introduction of the clinical concept of High Dose Rate Brachytherapy for gynaecological, genitourinary, thoracic and head and neck tumours.
Women in India and other parts of Asia have an inexplicable vulnerability to cancer, according to many medical scientists and experts. "Prevention is indeed a better option. The disease can be cured if you fight it at an early stage," he said.
Nori has also been training Indian doctors in the field of cancer; despite their talent, Indian doctors lack "hands-on" experience in handling state-of-the-art equipment and tools needed to detect and treat cancer.
"We know that he is highly motivated to helping the poor in India. That is an indispensably important factor because it springs from a sense of commitment. India has benefited from his advanced level of expertise and, at the same, it has also provided him with the satisfaction of being able to do something for his country of birth," says Dr Anil Shetty, an Indian oncologist who knows about Nori's work.
Nori has established advanced fellowship training programmes for Indian doctors who, after attending them at the Memorial Sloan-Kettering Cancer Center and Cornell University, return to India to set up cancer care programmes.
Such efforts have not gone unnoticed in the United States either: the American Cancer Society conferred on him its most prestigious "Tribute to Life" award while the Memorial Sloan-Kettering Cancer Center honoured him with the "Most Distinguished Physician Award".
Other awards include the Excelsior Award from the Nargis Dutt Memorial Foundation in the United States, the Network of Indian Professionals in the US and the Most Distinguished Physician Award from American Association of Physicians from India (AAPI).
The list of accolades is long and "cannot be listed in a single page", as one American cancer specialist put it.
Explaining why the treatment of cervical cancer is so important for India and other developing countries, Nori said it is the most common cancer among females today. Some 200 women reportedly die each day in India, though the truth is that this disease is not invincible; it is preventable and even curable if detected in time. It can be prevented by making certain lifestyle changes.
"My input has been to improve awareness and focus on prevention. I have simplified treatment with radiation which can cure cervical cancer. This process is called remote-afterloading brachytherapy and was introduced in the 1970s in America. I have replicated this in India and other developing countries," he said.
Under this therapy, the machine delivers radiation in a precise and safe manner, with the least chance of damaging normal tissue.
"When I moved here from India in the 1970s, the treatment of cervical cancer was aggressive and punitive in India. I wanted to come to the United States and develop new technology to make it safe, precise and effective, sparing the healthy tissues. I have my own network of hospitals in India. I have already started operations in collaboration with hospitals in several states," Nori said.
This story originally appeared in Gulf News.