Leonard reflects on progress for lymphoma patients
Wednesday, January 28, 2015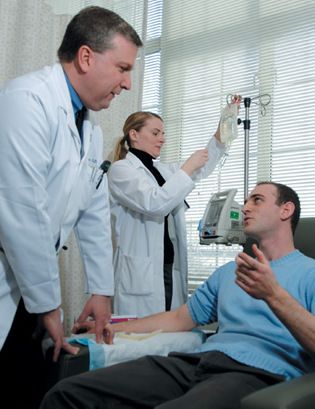 It was a banner year for patients with lymphoma, according to John Leonard, M.D.,  associate director of clinical trials at the cancer center and director of Weill Cornell's Lymphoma Program.
Studies conducted by the Lymphoma Program at Weill and elsewhere helped lead to the accelerated approval and expanded label of ibrutinib for CLL/SLL, the full approval of idelalisib for CLL/SLL, and accelerated approval of idelalisib for follicular lymphoma. In addition bortezomib was approved for patients with previously untreated mantle cell lymphoma,belinostat was approved for previously treated T-cell lymphomas, andnivolumab was designated a breakthrough therapy.
"These remarkable achievements are due in no small part to the commitment of our patients and their families (along with many others throughout the world) and we would like to take this opportunity to thank you all," Leonard said in the latest issue of the New Developments in Lymphoma newsletter. "As we continue to stress the importance of clinical trials, we will continue seeking the means to better disseminate educational information about the trials we oversee."
In addition to publications in prestigious journals such as the New England Journal of Medicine andCancer Discovery, lymphoma researchers at WCMC contributed to or presented 41 abstracts at the 56th annual meeting of the American Society of Hematology (ASH).
To read more research highlights, see the newsletter at the New Developments in Lymphoma blog.