Developing rationally designed, targeted, and individualized therapeutic strategies that will minimize the use of conventional toxic and noxious chemotherapeutics in patients with hematologic malignancies 
Hematologic malignancies, including lymphoma, leukemia, and multiple myeloma, affect at least 150,000 people per year in the United States — and most of these diseases remain incurable. At the time of diagnosis, blood cancers are almost always widely spread throughout the body and require systemic and often extremely toxic chemotherapy regimens or risky bone marrow transplantation as treatment. Therefore, while the outcome is uncertain at best, patients require high intensity medical care.
NewYork-Presbyterian/Weill Cornell Medical Center has become a leader in treating hematologic malignancies and developing protocols for testing novel targeted therapies that are more effective and less toxic than traditional approaches.
Thanks to improved genome sequencing and computer technology, the science of treating hematologic malignancies is reaching a transformative stage. For the first time, laboratory and translational science can begin to accurately guide the diagnosis and treatment of individual patients with lymphoid and myeloid neoplasms. Rational deployment of experimental drug regimens has a higher chance than ever to eradicate or at least control currently incurable hematologic malignancies. Key advances have come from extensive genomic sequencing efforts. 
RESEARCH HIGHLIGHT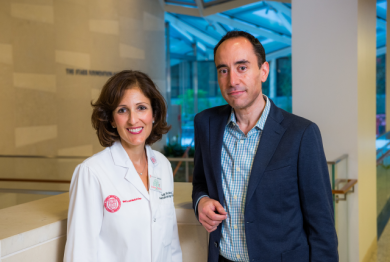 Dr. Gail Roboz and Dr. Duane Hassane A technique developed by investigators at the Meyer Cancer Center can detect cancer cells surviving therapy in the most common form of leukemia in adults more sensitively and precisely than traditional microscopic observation. They developed a technique that scours patients' bone marrow samples after treatment for acute myeloid leukemia (AML) for genetic mutations – specifically a mutation called NPM1 – that can serve as biomarkers for minimal residual disease. The method was found to detect more than 95 percent of the possible NPM1 mutations in a single test. The investigators hope to use the strategy to monitor the survival of cancer cells in patients after chemotherapy.