Meyer Cancer Center scientists use novel approaches, develop new computational and experimental tools, and help elucidate complex genetic and epigenetic alterations that promote tumorigenesis and metastasis. 
Large-scale genomic and epigenomic profiling of tumors has revealed a broad array of recurrent and patient-specific genetic and epigenetic alterations, as well as significant genetic and epigenetic heterogeneity within tumor cell populations in a dynamic and evolving landscape.
Investigators in the Cancer Genetics & Epigenetics Program use next-generation sequencing, advanced computing and experimentation to identify and unravel the function of genetic and epigenetic alterations in tumors. These investigators seek to translate genetic and epigenetic alterations into biomarkers for therapy selection and early cancer detection, as well as to explore the mechanisms of drug resistance and model complex tumor-associated pathways. 
The ultimate goal is to design the next generation of therapies that will specifically target these alterations and enable the precision medicine paradigm. 
RESEARCH HIGHLIGHT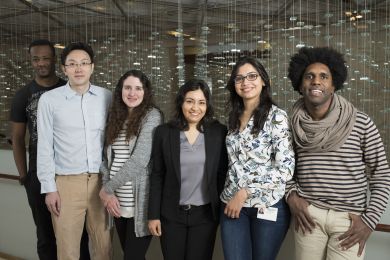 Ekta Khurana, Ph.D., and lab members Their paths to discovery were completely different, but two teams of scientists at the Meyer Cancer Center arrived at the same place, and the result may impact on prostate cancer patients down the road. For Ekta Khurana, Ph.D., assistant professor of computational genomics, the discovery of ERF as a driver of prostate cancer was proof that her new computational tool, RegNetDriver, is a valuable tool to elucidate the inner workings of tissue networks as they develop cancer. For Juan Miguel Mosquera, M.D., M.Sc., associate professor of pathology and laboratory medicine, it highlighted the importance of including patient samples from a diverse population in research studies, as the anomaly was unearthed while interrogating tissue samples from African American prostate cancer patients.