Weill Cornell is an acknowledged leader in innovative surgical and non-surgical techniques that improve survival and preserve neurological function.
Our neurosurgeons specialize in high-risk complex procedures, including: intraoperative brain mapping and fMRI; stereotactic radiosurgery for precise delivery of highly focused radiation; and interventional neuroradiology, a relatively new specialty that combines advanced three-dimensional imaging techniques with endoscopic surgical procedures.
In addition to their clinical work, our neurosurgeons actively pursue new frontiers in research. Advancements include the successful isolation of stem cells from the human brain, both normal and brain tumor-derived, and a cure for one type of eye cancer using tiny catheters.
Surgery:
Medical Oncology:
Neuro-Oncology:
Radiation Oncology:
Contact:
525 East 68th Street
New York, NY 10065
Phone: (866) 426-7787
A multidisciplinary effort led by neurosurgeons from the Weill Cornell Brain and Spine Center and neurologists from the Division of Child Neurology at the NewYork-Presbyterian Phyllis and David Komansky Center for Children's Health, the Pediatric Brain and Spinal Cord Tumor Program creates personalized treatments for each patient, including advanced drug therapies for children with malignancies of the central nervous system and other novel approaches to treatment of pediatric tumors. They are committed to getting their young patients back to their normal childhoods — that means maximizing the impact of treatment while reducing potential risks so that the children can have an optimal prognosis for normal growth, sexual maturity, and cognitive performance.
Surgery:
Neurology:
Contact:
Pediatric Brain and Spinal Cord Tumor Program
1305 York Avenue, 9th Floor
New York, NY 10021
Phone: (212) 746-2363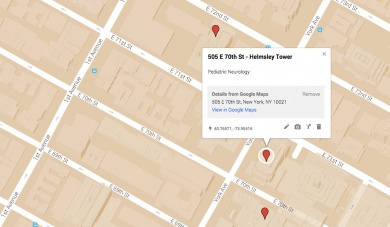 Pediatric Neurology
505 East 70th Street, Helmsley Tower, 3rd Floor
New York, NY 10021
Phone: (212) 746-3278