In 2030, the top cancer in HIV patients may be a surprise
This is an excerpt from an article that appeared in Medscape Medical News. Read the full story here.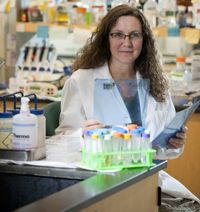 Dr. Ethel Cesarman The burden of cancer among people living with HIV in the United States is undergoing notable change, according to new research presented here at the American Association for Cancer Research (AACR) 2017 Annual Meeting.
In this patient population, the number of cancers linked to AIDS and suppressed immunity, such as Kaposi sarcoma and non-Hodgkin's lymphoma, is declining, and cancers related to aging are projected to rise in coming years, say the investigators, led by researcher Jessica Islam, MPH, a doctoral student in epidemiology at the University of North Carolina at Chapel Hill.
In 2030, the most common cancers among people with HIV will be prostate, lung, and liver cancer, they report.
The study findings are based on the assumption that recent trends will continue in the next 2 decades.
The findings may or may not be accurate, said Ethel Cesarman, M.D., Ph.D., professor of pathology at the Weill Cornell Medicine in New York City.
"We are only starting to learn the health consequences of HIV and aging," said Dr Cesarman, who is an expert in AIDS pathology and was asked for comment.
Dr Cesarman said that "HIV is not a death sentence anymore," but it was at one time. Only recently have there been large numbers of older HIV-positive people. "It's uncharted territory," she said. "We don't know what is going to happen as people with HIV age."
There is no dispute that the widespread use of highly active antiretroviral therapy (HAART) has led to an increase in survival in people with HIV and has resulted in the aging of that population.
The study authors say that only 4.1% of the HIV population was older than 65 years in 2006, but that age group is projected to increase to 21.4% by 2030, according to their new estimates.
"That's a huge shift in proportion," Islam told Medscape Medical News.
...