Bringing bladder cancer into focus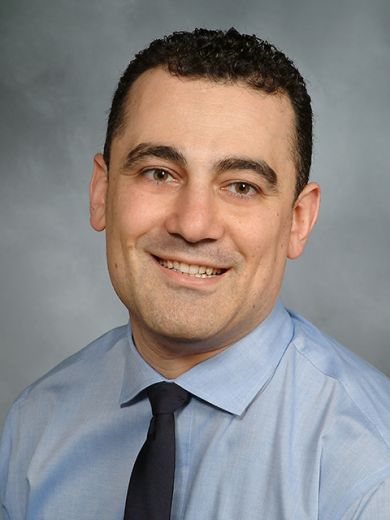 Bishoy Faltas, M.D. Bladder cancer researchers at Weill Cornell Medicine have their eye on new biological targets for the disease, and it could herald new targeted therapies for this hard-to-treat cancer. 
Treatment resistance is a major problem for bladder cancer patients. Within months of initial treatment, usually with platinum-containing chemotherapy, most patients become resistant and they stop responding to treatment.
While studying the biology of the most common type of bladder cancer, urothelial cancer, Bishoy Faltas, M.D., instructor in medicine at Weill Cornell Medicine and genitourinary oncologist at NewYork-Presbyterian, found that chemotherapy can actually contribute to the cancer's eventual resistance and progression. It does this by fostering an evolutionary "game of clones" in which the most-resistant mutant cancer cells survive and thrive, to the detriment of the patient.
He detailed his findings in a paper, published Oct. 17 in Nature Genetics, where he also reported that higher levels of mutations in two molecular pathways — the integrin signaling and the L1-cell adhesion molecule signaling pathways -- accumulated after chemotherapy.
To target the integrin pathway, Faltas focused on inhibiting a "master regulator" protein that mediates downstream signaling, called focal adhesion kinase (FAK). FAK small molecule inhibitors are being explored as therapeutic targets for other cancers, and an oral drug, defactinib, is already available for clinical testing. So Faltas teamed up with urologic oncology fellow LaMont Barlow, M.D., to see whether it would work in bladder cancer.
To do so, the team worked in a lab at the Englander Institute for Precision Medicine to grow patient-derived bladder cancer cells in three-dimensional "organoid" cultures. This enabled them to test the effects of these drugs on the patients' tumors in the most true-to-life way possible.
The patient-derived tumors initially grew well - then stopped growing and shrank once the drug was applied. In another experiment, they found that the drug inhibited the tumor cells from forming a three-dimensional organoid tumor in the lab.
"These are exciting preliminary findings. So far we don't have any effective targeted therapy for bladder cancer patients," Faltas said.
The team is now doing further studies in mice. They are comparing how tumors taken from patients engrafted into mice will grow once FAK is "knocked out" using CRISPR-Cas9 genome editing. Ultimately, Faltas hopes to test this approach in a clinical trial.
"I believe that developing effective targeted therapies for patients with bladder cancer will only be possible once we dissect the biological processes that specifically drive these tumors" Faltas said.
To this end he is also studying APOBECs, a family of proteins which mutate single-stranded DNA. Because chemotherapy drugs introduce breaks in double-stranded DNA, leaving single strands of DNA dangling, he postulates that chemotherapy makes more "DNA fodder" for APOBECs to bind resulting in mutations (errors in the DNA) that ultimately drive drug-resistance in bladder cancer.
Faltas just received a Career Development Award from the Department of Defense's Congressionally Directed Medical Research Program to continue his research in this area.
He has been invited to discuss his recent work at a special presentation during the Annual Meeting of the American Association of Cancer Research (AACR) in Washington DC, an honor bestowed as an AACR NextGEN Star.
Other bladder-cancer focused research he will be presenting at the AACR 2017 annual meeting includes:
Beyond RB1: the pocket protein p130 mediates the effects of CDK4/6 inhibition in RB1-deficient urothelial carcinoma - Monday April 3, 1 p.m.
Stability of copy-number profiles defines two molecular subtypes during urothelial carcinoma's evolution - Monday April 3, 8 a.m.
Germline single nucleotide polymorphisms in DNA repair genes in urothelial cancer patients - Monday April 3, 8 a.m.
Integrin signaling modulation demonstrates potential therapeutic strategy in bladder cancer using three-dimensional organoid culture - Wednesday April 5, 8 a.m.
Precision therapeutic targeting of oncogenic FGFR3 fusions using CRISPR-Cas9 genome-editing in urothelial cancer – Wednesday, April 5, 8 a.m.
.