Investigating a loss to discover a win for prostate cancer patients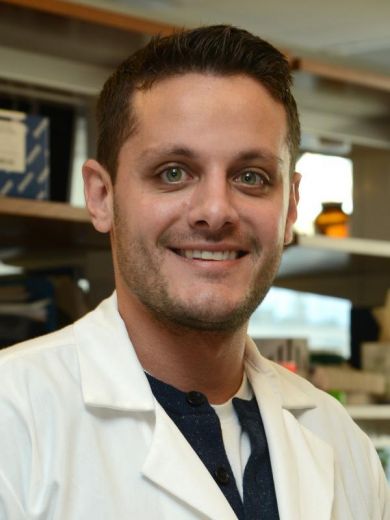 Michael Augello, Ph.D. Around 20 percent of primary prostate cancer patients are missing a certain gene, CHD1, suggesting that the loss plays a significant role in the disease. 
Michael Augello, Ph.D., a postdoctoral researcher in the lab of Christopher Barbieri, M.D., Ph.D., wants to figure out exactly what role the protein plays in the development and progression of prostate cancer, and a prestigious grant from the Prostate Cancer Foundation will help fund three years of his research.
As part of the grant, he will explore:
The consequence of CHD1-loss on prostate cancer "epigenetics" -- a system of regulating the 3D structure of DNA to enable or disable different genes from being expressed;
Whether and how CHD1-loss alters the activity of the androgen receptor (AR), which is the primary driver of prostate cancer;
The effect of CHD1-loss on gene expression and growth of prostate cancer cells;
The genes that drive prostate cancer growth following CHD1-loss.
The clinical impact of CHD1-loss will also be studied by examining the outcomes of patients with this defect in their tumors, and whether CHD1-loss predicts responses to different therapies will be investigated. Finally, a drug screen will be performed to identify novel therapies that are effective against prostate tumors that have deleted CHD1.
If successful, this study will define the mechanisms by which CHD1-loss drives prostate cancer and identify therapeutic options for patients with these tumors.
Augello was one of 19 early-career scientists recently named as Young Investigator Award recipients, selected from a pool of 123 applicants from 75 institutions in 12 countries. 
"Over the years, YI Awardees' research has led to advancements in new treatments and vastly improved our understanding of precision medicine, bringing us closer than ever to a cure," said Howard Soule, Ph.D., chief science officer and executive vice president of PCF. "We are proud to support this year's young investigators who are leading projects that will continue to help accelerate the breakthrough discoveries needed to not only further advance therapies, but ultimately defeat prostate cancer once and for all."