Evolving therapeutic strategies in renal cell carcinoma
New therapeutic options for patients with renal cell carcinoma (RCC) have developed rapidly, and researchers are hoping to further capitalize on these advances.

"As we've developed more effective therapies for patients with advanced kidney cancer, we want to determine the role of these treatments in earlier stages of disease for patients who still have their primary tumor in place," explains David M. Nanus, M.D., a medical oncologist at Weill Cornell Medicine.

Nanus discussed evolving therapeutic strategies in the neoadjuvant and adjuvant setting for patients with RCC at the 2017 Interdisciplinary Prostate Cancer Congress. In an interview with OncLive at the meeting, Nanus highlighted the key points of his lecture. Read the full interview here.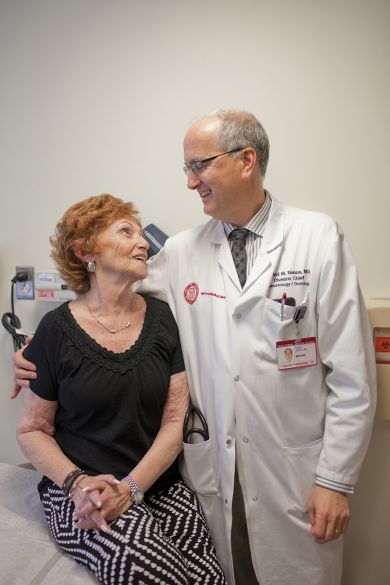 Bladder cancer survivor Irene Price and Dr. David Nanus Nanus: As we've developed more effective therapies for patients with advanced kidney cancer, we want to determine the role of these treatments in earlier stages of disease for patients who still have their primary tumor in place. Similar to any solid tumor, when we see a therapy that works in later stages of disease, the question becomes can you move that treatment up to an earlier stage and have a benefit in preventing relapse or improving outcomes in patients.

In the neoadjuvant setting, there have been many studies looking predominantly at anti-VEGF therapies. These studies tried to determine if you shrink the tumor and improve resectability, do the outcomes improve or are there postoperative complications. The take home is that it hasn't been proven to be worthwhile in terms of patient outcomes.

If you look at all the studies, the median progression-free survival (PFS) is about the same. The clear role is trying to prevent the need for dialysis by leaving some kidney behind by shrinking the cancer preoperatively. There is an ongoing study that includes preoperative immunotherapy with nivolumab (Opdivo) plus postoperative immunotherapy in patients with large tumors. We'll see if preoperative or postoperative has any difference.

Most of the studies to date have been with VEGF therapies. The ASSURE trial, which is a large prospective randomized trial, showed patients who were randomized to 1 year of sorafenib (Nexavar), 1 year of sunitinib (Sutent), or placebo. That trial showed no difference in PFS or overall survival (OS) in the patients who received postoperative care. Eighty percent of patients had clear cell, whereas the remaining 20% did not, which led to the question of whether that's why no differences were seen.

The S-TRAC study, which was recently published in The New England Journal, was 1 year of adjuvant sunitinib therapy in patients with a T3 or T4 kidney cancer at the time of surgery. In this smaller trial, there seemed to be an improvement in PFS; however, the question that is raised is maybe there is a role for sunitinib in high-risk patients. 

The investigators for the ASSURE study went back and did a preplanned analysis. It was much larger, but again, they saw there was no difference in PFS or OS. The bottom line is that the optimal role for postoperative targeted therapy with a tyrosine kinase inhibitor (TKI) that targets the VEGF pathway in patients with kidney cancer who are at a high-risk for relapse still must be determined. 

There was another study with crizotinib (Xalkori) that still hasn't been reported out, but preliminary analysis is suggesting that it didn't meet its endpoint, which would have been an improvement in PFS, suggesting another negative study in that space.

Additionally, there are 2 studies with everolimus (Afinitor) and axitinib (Inlyta) that are closed for accrual. There has been a number of these trials that have already completed accrual and we're waiting for the readout, which generally takes a number of years. However, it's not looking like giving a TKI has improved the standard of care. There has been no clear drug you should be giving patients postsurgery. 
There are many trials across the country looking at different immunotherapies and some combinations that may yield a benefit…There is a need for adjuvant therapy for these patients. Right now, we don't have anything that passes the bar that we would recommend to patients.
What would be the impact it would have if an agent was found to be successful?
If you remember, trastuzumab (Herceptin) was given in patients with metastatic breast cancer and had an impact on prolonging life and was FDA approved. When they moved it up into the adjuvant setting, the impact on preventing relapse in patients with early-stage breast cancer was effective. It switched the whole paradigm. Previously, if you had HER2-positive breast cancer from the beginning you had a worse prognosis overall, but today localized disease has a high-risk of relapse. Now, if you have HER2-positive breast cancer, you do better when you get trastuzumab early and it prevents relapse. 

If you were to transfer that to kidney cancer, patients that we know had the highest risk of relapse might respond better to an immunotherapy, such as a PD-1 or PD-L1 inhibitor. If it is discovered that those patients who are given an adjuvant immunotherapy are less likely to relapse, it would make a big impact on the patients with higher stage disease, since 60% to 70% of them will relapse after nephrectomy. Right now, all we can do is wait and monitor.