Broadway actress and colon cancer patient Karen Walsh uses theatrical skills to raise awareness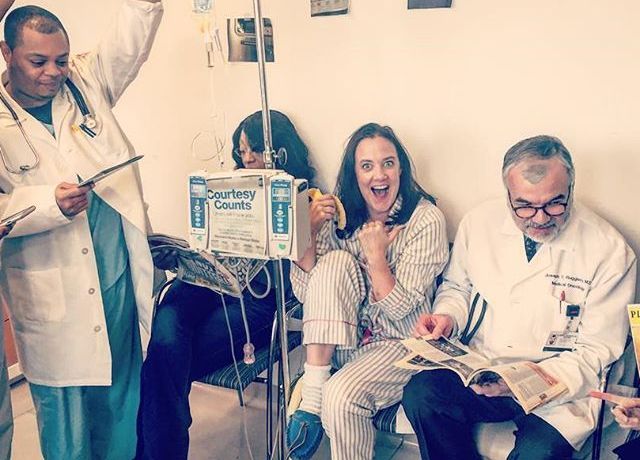 Karen Walsh is a familiar face on Broadway, and she is also a mom who's fighting stage-4 colon cancer. Her stage background probably has something to do with her creative approach to the battle. NY1's Kristen Shaughnessy explains in this video broadcast.
"I've got two kids they're eight and three," Walsh said. "I want to set an example for them, but I also don't have a choice, I need to fight this and I need to win this. It is a little infuriating to be diagnosed with this at a young age."
"She thought she had a mild abdominal flu or belly ache that turned out to be actually something quite serious," said Dr. Joseph Ruggiero.
The initial meeting was very fraught, very, everybody was very upset, including me, about what we found, but immediately that has to turn into something positive and a plan moving forward to get her better.
"She was scared and most patients are because they just don't know what to expect," said Maryanne Carolan, Walsh's infusion nurse.
Scary but at the same time I felt like I'm taking a step toward healing.
Karen has had Dr. Ruggiero and nurse Carolan by her side since she began chemotherapy at NewYork-Presbyterian/Weill Cornell Medical Center in the fall of 2015. From the start, Karen documented her chemo treatments with photos — her friend, choreographer and director, Sam Pinkelton has transformed those into themed photo shoots with a message.
"Something that you find to have forward motion, to have hope, empowerment, something, something that lifts us in some way because this is a fight you know, it's a fight," Walsh said.
For one of her most recent, her friends and fellow actors, Christa Scott-Reed, Becky Ann Baker of Girls and Brandon Dirden of Jitney used the popular TV series, Friday Night Lights
"Her strength, her creativity, her never-ending font of hope for her own future and for her kids futures, she's an inspiration in a million ways," said Scott-Reed. "It is a joy to be her friend."
"I can't even begin to tell you how many people are in her support group, that's the kind of people she draws to her," said Baker.
"I know how much of a fighter she is, you should be more scared for cancer, than for Karen," said Dirden.
"Karen just because of all her energy and who she is, the person that she is, it's special for me — to treat her," said nurse Carolan.
Dozens of Karen's younger family members and friends have listened to her pleas and they've gotten checked, some have found indications of precancerous cells — that is why Karen has made it her mission to educate others and encourage them to listen to their bodies.
 "We are the team behind her, cheering her on," said Scott-Reed. "She's the coach that rallies us to her cause and to spreading the word about getting screened as well."