The startling rise in colorectal cancer among young people
Tuesday, February 28, 2017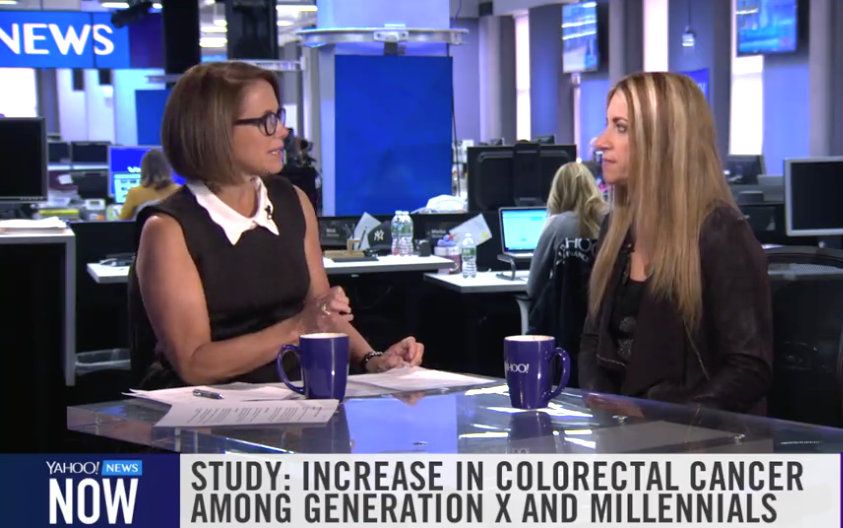 This story appeared on Yahoo News. Watch the video here.
It's a sobering statistic. A new American Cancer Society study found that members of Generation X and millennials face up to four times the risk of colon and rectal cancer as baby boomers.
From the mid-1980s through 2013, colon cancer rates in adults aged 20 to 39 increased by one to two percent per year, according to the findings.
For adults aged 40 to 54, rates increased by 0.5 to one percent annually from the mid-1990s through 2013.
"We think it has to do with changing diet. We have an incredible obesity epidemic in the United States," Dr. Otis Brawley, chief medical officer for the American Cancer Society, told Yahoo Global News Anchor Katie Couric.
"From other studies we do know that processed foods increase risk of cancer," he said.
Rectal cancer rose about three percent per year from the mid-1970s in people aged 20 to 39.
In adults between 40 and 54, rectal cancer rates increased by two percent per year from the 1990s to 2013.
When asked by Couric why current guidelines don't recommend screening before age 50 unless there is a family history, Brawley said it's unclear what impact it would have.
"We don't know that screening is going to be as effective for people in their 30s and 40s as it is for people in their 50s and 60s."
Another leading physician, Dr. Felice Schnoll-Sussman, director of the Jay Monahan Center for Gastrointestinal Health at NewYork-Presbyterian Hospital and Weill Cornell Medical Center, told Couric doctors need to reevaluate the way they diagnose younger patients who present with symptoms.
"When we see someone with symptoms that are consistent with perhaps rectal cancer, I think we have to do an endoscopic evaluation or certainly a digital rectal examination."
Dr. Brawley agrees and says taking the time to properly evaluate a patient's medical history can help with making diagnostic decisions.
"A lot of this can be sorted out simply by taking a patient history, and you can decide whether you are going to use the expensive endoscopies and very expensive diagnostic tests."