How Philanthropic Support is Driving Groundbreaking Cancer Research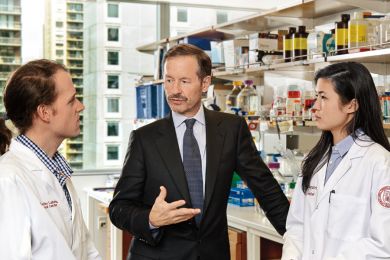 Dr Lewis Cantley in his lab On any given day, the Sandra and Edward Meyer Cancer Center is alive with activity; the labs are filled with brilliant scientists working together to solve some of medicine's most challenging mysteries. The center, headquartered within the Belfer Research Building, has grown incredibly since January 2014 – in large measure thanks to a gift of $75 million from Sandra and Edward Meyer to fund cancer research at Weill Cornell Medicine. This gift has allowed cancer research at Weill Cornell to accelerate forward at a rate that has astounded even the Meyer Director of the center, Dr. Lewis Cantley.
"Philanthropy at Weill Cornell Medicine helps us build new infrastructures so that we're doing experiments that no one else in the world is doing," says Dr. Cantley. "It is exponentially expediting the time that it takes to get new therapies to patients."
Thanks to the generosity of the Meyers and countless donors and friends, the Meyer Cancer Center has had an influx of new recruits in the last year. These leading lights include Dr. Harold Varmus, a Nobel Prize-winning cancer researcher; Dr. Howard Fine, founding director of the brain tumor center; and Dr. Silvia Formenti, the Sandra and Edward Meyer Professor of Cancer Research. Dr. Varmus left his position at the National Cancer Institute to join Weill Cornell as the Lewis Thomas University Professor and senior advisor to the dean. Dr. Fine's work has gained recent exposure after he dramatically enhanced Weill Cornell's ability to do clinical trials by creating "mini-brains," allowing him to grow brain tumors outside of the body and see how they respond to various courses of treatment. Dr. Formenti has conducted groundbreaking work in immunotherapy, which uses the body's own immune system to fight cancer.
The Meyer Cancer Center works in tandem with the Englander Institute for Precision Medicine, named in 2015 thanks to a significant investment from Caryl and Overseer Israel Englander and led by Dr. Mark Rubin, the Homer T. Hirst III Professor of Oncology in Pathology.
"When we began in precision medicine, our clinical decisions were based on evaluation of a relatively small number of genes," says Dr. Cantley. "We are now leaders in this field – we can evaluate all 23,000 genes – and by doing this broader analysis, we are catching things that we otherwise might have missed."
All of these advancements in cancer research, while thrilling, come at a time when federal funding for cancer research is at a low and, paradoxically, the cost to perform this research is at an all-time high – due to the expense of implementing the newest and most effective innovations.
However, "the money that we spend today on cancer research is far more effective than it's ever been in the past because we now know in so much more detail the science of why cancers emerge and why they evolve and become resistant," says Dr. Cantley.
Another challenge in government funding of major cancer research, Dr. Cantley says, is that federal funding provides support for basic science, but not the pre-clinical stage of the research. Therefore, researchers rely on philanthropic support to fill this critical gap.
"When we have patients with late-stage disease who we know are running out of choices, we have committed to do everything we can for them," says Dr. Cantley. Philanthropy is absolutely essential for us to be able to do what we need to do.
"We have made remarkable progress just in the last year, particularly in the area of recruitment and the advancement of novel research. But we're not finished."
Recent Donors to Cancer Research on What Inspired Their Gifts
Mindy and Jon Gray have dedicated themselves to supporting research on a mutation in either the BRCA1 or BRCA2 gene that can increase one's risk of breast and ovarian cancer. After her sister Faith Basser passed away from ovarian cancer in 2002, Mrs. Gray joined the board of the Ovarian Cancer Research Fund and she and Mr. Gray formed the Basser Center for BRCA at the University of Pennsylvania. Now, they have made a gift of $1.65 million to support BRCA research at the Meyer Cancer Center, led by Dr. Cantley.
"We are actively committed to funding the best scientists in the world working on BRCA-related cancers, which is why we are so excited to be supporting Dr. Cantley's work," says Mrs. Gray. "From our first meeting with Dr. Cantley, we knew we wanted to partner with him and his team. His spirit of collaboration and ability to help move the field forward were particularly exciting to us, and we hope and believe that this work BRCA-related will have broad implications for the treatment of all cancers."
Overseers Sandra and Edward Meyer's commitment to cancer research is no secret; after generously funding the Meyer Cancer Center, they have been dedicated advocates for all that Dr. Cantley aims to accomplish in his work at Weill Cornell Medicine. They are also longtime supporters of Dr. Silvia Formenti, Chair of the Department of Radiation Oncology – who is an expert in immunotherapy and radiotherapy for cancer – and holder of the Sandra and Edward Meyer Professorship of Cancer Research, recently established with a $3 million endowed gift from the Meyers.
"The ultimate mission of the Meyer Cancer Center is to develop cancer treatments based on groundbreaking research at Weill Cornell Medicine," said Mr. Meyer. "Sandy and I can think of no better inaugural holder for this professorship than Dr. Formenti, whose innovative and translational work in radiation oncology has the potential to make an indelible mark on cancer care for patients around the world."
Ian and Isabelle Loring recently made a gift of $1 million to support the Program for Experimental Therapeutics for Non-Hodgkin Lymphomas. The gift, which is under the direction of Meyer Cancer Center leaders Dr. Cantley, Dr. John Leonard, associate dean of clinical research, and Dr. Ari Melnick, chair of the hematologic malignancies program, comes from a place of personal interest; Mrs. Loring was diagnosed with non-Hodgkin lymphoma two years ago.
"We feel very fortunate to have this opportunity to be in partnership with Weill Cornell Medicine and possibly further this research," says Mrs. Loring. "Weill Cornell's team of researchers is on the cutting edge of potential therapies that could not only make treatment of non-Hodgkin lymphoma less toxic, but also provide a better outcome. That would be really wonderful."
This article first appeared in the May 2016 issue of Milestones.