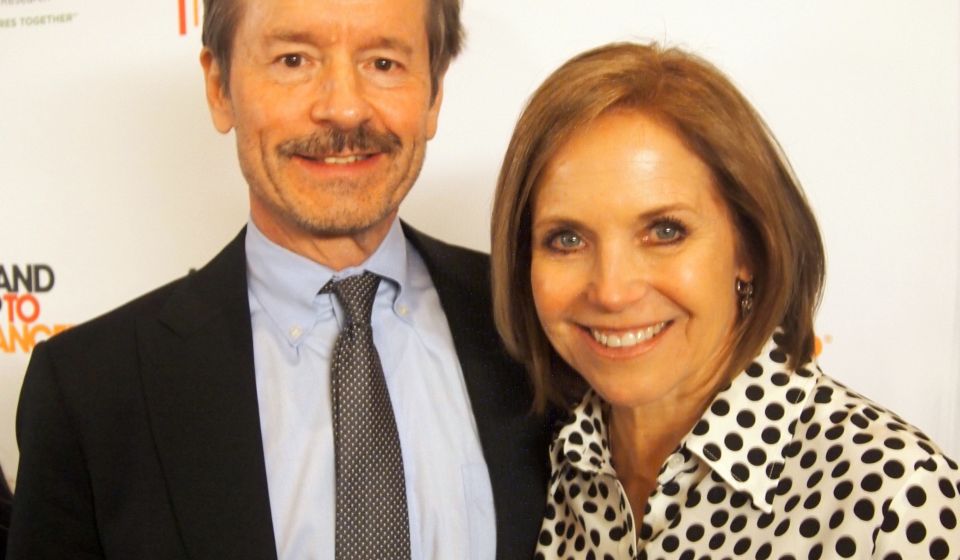 Lew Cantley with Katie Couric
Vivek Mittal with Fran Drescher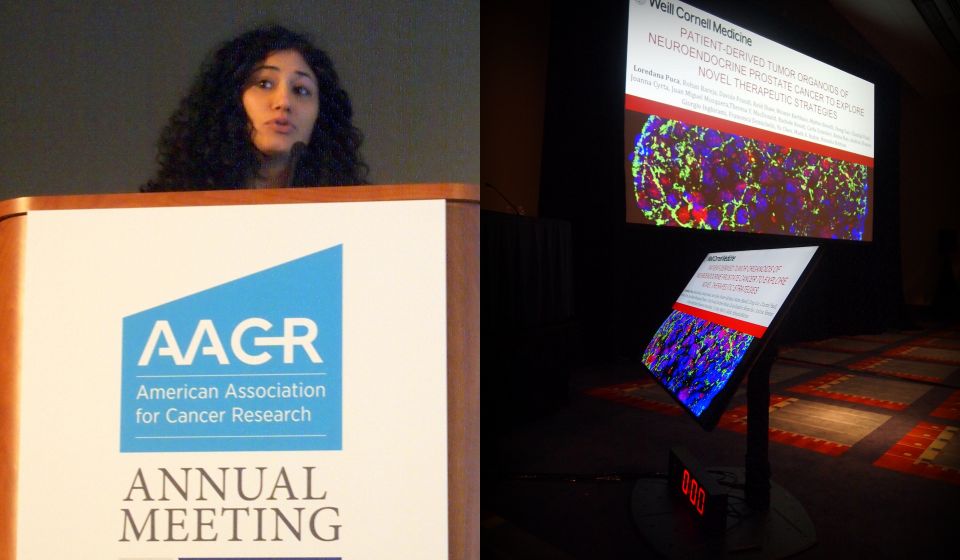 Loredana Puca presents research about prostate organoids
Ding Chen Gao presents his cell lineage tracing model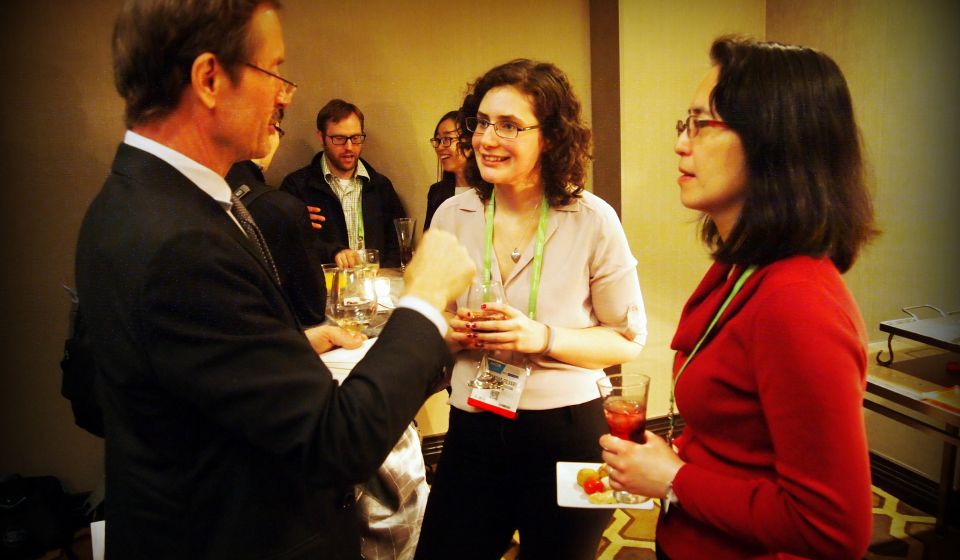 Lew Cantley, Coryander Gilvary and Nancy Du
Scott Tagawa and Bishoy Faltas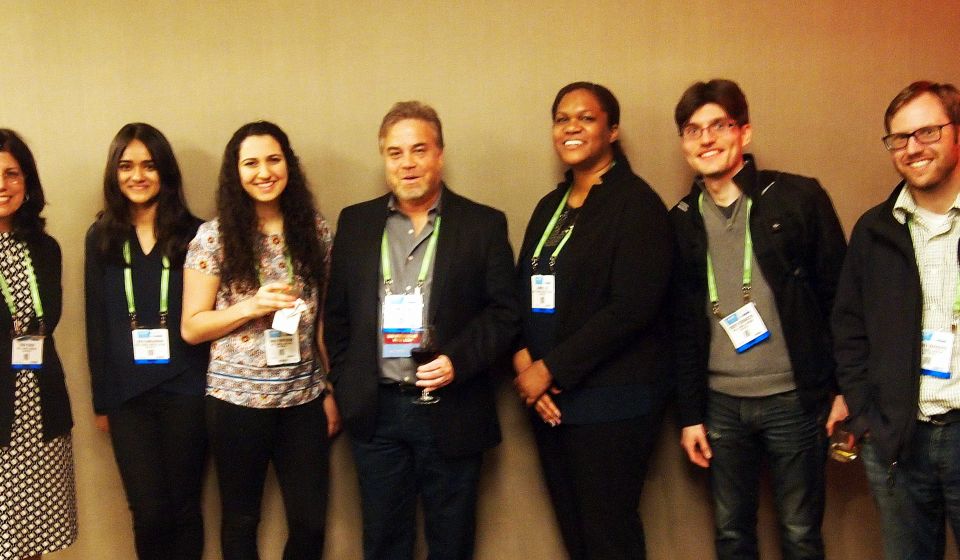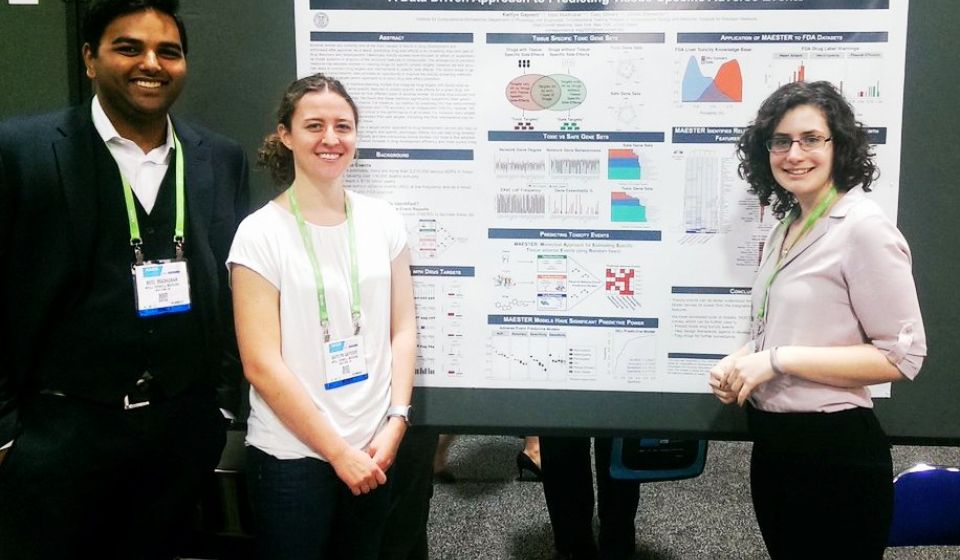 The Elemento Crew: Neel, Katie and Coryander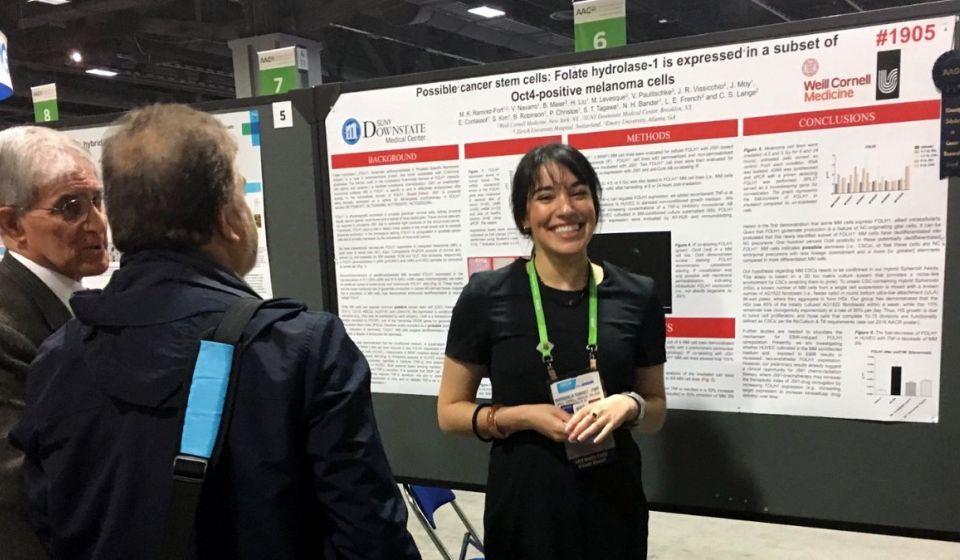 Highlights:
Dream Team: It was like a dream when it was announced that the Meyer Cancer Ceter would join a cohort of top colon cancer centers as part of a $12 million award from Stand Up to Cancer (SU2C)/American Association for Cancer Research (AACR). Meyer director Lewis Cantley was on hand to accept the honor from Katie Couric. As a member of the new  "Colorectal Cancer Dream Team," Weill Cornell Medicine will join an interdisciplinary collaboration of scientists, clinicians, technicians and other experts from Memorial Sloan Kettering Cancer Center, Yale University and Case Western Reserve University. The money will help fund trials testing Vitamin C as a therapy for patients with colon, lung and pancreatic cancers. Read more here 
Early differences: Although the overall incidence of colon cancer has been trending downwards, there has been a worrying rise of cases of early-onset cases among the young, and Manish Shah, M.D., believes this amy be because we are seeing a biologically distinct subset of colon cancer. Based on the differences in clinical presentation and location of the tumors, he presented research that showed important molecular differences between early-onset and traditional colorectal cancer (CRC). Read more here.
Red light, green light: What causes cancers to spread, and what are the mechanisms by which they do so? These are questions scientists have been grappling with for decades. One answer they seemed to agree upon was the process of epithelial-to-mesenchymal transition (EMT), in which the cells that line cavities, organs and blood vessels change shape and migrate to other parts of the body. Vivek Mittal, Ph.D., and Ding Cheng Gao, Ph.D., caused quite a stir, however, when they produced a paper two years ago suggesting that EMT was not actually required for all metastasis, and their labs were at this year's AACR Annual Meeting in force to present further evidence of their findings. Dr. Gao presented the system he developed to visually track metastasizing cells, using red and green fluorescence, and graduate student Shira Yomtoubian showed how she used the system to trace tumor-initiating cells in the spread of triple-negative breast cancer, identifying a potential target to block metastasis. Dr. Mittal took part in a well-attended debate about the role of EMT in metastasis.
Shedding a light on "dark matter" data: Ekta Khurana, Ph. D., has created a computational tool that can mine terabytes of overlooked genomic data to uncover potentially unknown drivers of cancer. Most major tumor sequencing projects thus far have focused on identifying genes that are frequently mutated and thereby expected to have primary roles in the development of cancer. That data is then analyzed to look for 'driver' mutations -- primarily in proteins that change amino acid encoding – as opposed to 'passenger' mutations, which accumulate through various mutational processes but are considered irrelevant to tumor development. However, the protein-coding component of the genome accounts for less than 2% of the total sequence, so we are ignoring the remaining 98%, which has to do with mutations in non-coding regions. Read more here.
Bringing bladder cancer into focus: Rising star Bishoy Faltas, M.D., was also recognized as an AACR NextGen Star, and invited to give a special presentation about his research into bladder cancer. It was one of many presentations he made at the meeting - he had a whopping five additional abstracts accepted, including one about a promising new targeted therapy for urothelial cancer, which so far lacks any. Read more here. 
Shot at a cure: In the first demonstration of the potential for CAR-T therapy for previously untreatable anaplastic thyroid cancer (ATC), researchers from the Meyer Cancer Center were able to eliminate cancerous cells in cultures and mice. Irene Min, Ph.D., working in the Endocrine Oncology Laboratory with Rasa Zarnegar, M.D., and Thomas Fahey III, M.D., collaborated with radiologist Moonsoo Jin, Ph.D., to target intercellular adhesion molecule-1 (ICAM-1) using immunotherapy. Jin also presented his 'GPS for CAR-T' technology. Read more here.
Skinny Fat: Obesity's role in cancer risk and development has been a topic of particular research interest, but Andrew Dannenberg, M.D., warned that even women with a healthy weight, as measured by their BMI, may be at risk for developing breast cancer, which means far more women could be at risk than previously known. Speaking at a major symposium, Dr. Dannenberg explained that many healthy-looking women have hidden enlarged fat cells in their breast tissue that trigger an inflammatory process. Better prevention may lie in developing a non-invasive test to identify women who have inflamed breast tissue fat rather than just looking at a woman's weight. Read more here. 
Saving lives in silico: A computational tool created by graduate students predicts how people's livers, hearts and other tissues might respond to different drugs, in order to ID potentially dangerous side effects before the drugs are tested in people. To create the MAESTER tool, Gayvert and fellow Elemento Lab members Neel Madhukar and Coryander Gilvary, mined drug side effect databases and scoured safety warning labels. They added their existing knowledge about toxic drugs and 'toxic targets' (proteins that are only targeted by drugs with known tissue toxicity issues). They interrogated this data to learn a bit more about the relationship between drug-target-toxicity; they then leveraged this information to draw insights into unexpected drug toxicity events. Read more here. 
Optimal organoids: Organoids were a hot topic, and Loredana Puca, Ph.D., a postdoctoral associate mentored by Drs. Beltran and Rubin, gave a well-attended talk about the microscopic anatomy of the cells and tissues (also referred to as the histology) between organoids and original biopsy tissues. Similarities in both the genomics and transciptomics of both the tumor samples and organoids suggests they will be good models for diagnostic and treatment testing, with results that are more analogous to human tumors than traditional cell-line work. Read more on the What's New in GU blog. 
Talk of the town: Several media outlets also sought out our experts for comments on other studies presented at the conference. Ethel Cesarman, M.D., Ph.D., spoke to MedScape on a study about cancers linked to AIDS and suppressed immunity, while Manish Shah, M.D., discussed his insight into the long-term use of aspirin on cancer risk.